You Dream It, They Create It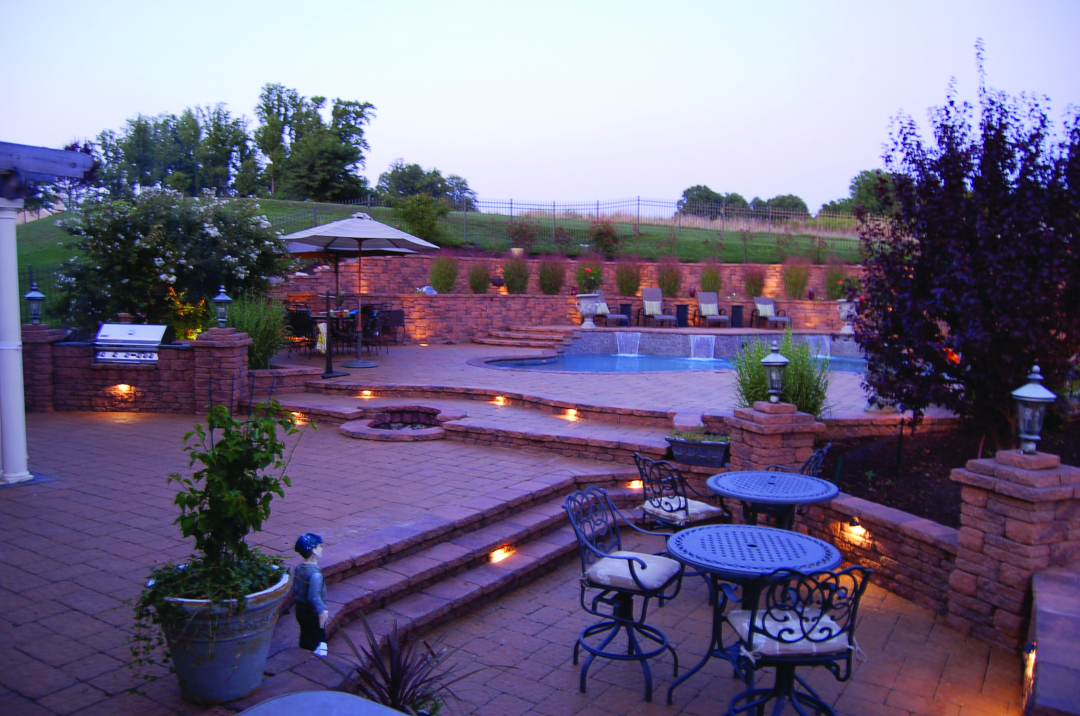 For more than 20 years, CKC Landscaping Inc. has been shaping and beautifying outdoor spaces: from smaller projects that increase curb appeal, to full-scale projects that transform your yard into breathtaking and functional outdoor living spaces that are a true extension of the inside of your home.
A family business, co-owned by brothers-in-law Steve Compton Sr. and David Connors, CKC Landscaping Inc. is a West Chester-based one-stop-shop whose mission is to deliver beautiful outdoor living spaces, with the highest quality of workmanship, on budget. General manager Steve Compton Jr. says, "We are much more than just a traditional landscape company."
Large enough to handle your biggest projects, they are still the small family company that can give you that family company feel. And they've got plenty of experience. "Most homeowners usually only do one big outdoor landscaping project in their lifetime, I do 100 of these per year," he says. "When you choose CKC Landscaping, you are getting many years of experience and dedication. Our employees have been with our company for years. We ensure they are well trained and have the best equipment so that they can consistently provide the highest level of quality workmanship."
CKC Landscaping sees itself as a company that shapes and defines the landscape in the customer's yard to give them the most enjoyable, lasting outdoor space. They can do just about anything you can imagine, including decking, pergolas, roof extensions and coverings, fire pits, fire places, outdoor kitchens, patios, stone walls, pillars, lighting, trees, shrubs, flowers—everything you want to see when you walk out your back door.
The relationship doesn't end when the project is finished. To extend the life and enjoyment of the work they've done, they will clean stone walls and patios once a year, and seal them every three years. They'll come out every spring and do an outdoor lighting diagnostic and make adjustments that are necessary. They also give their customers a five-year workmanship warranty, and insist on using only products that come from companies that have been in business for more than 30 years and offer lifetime product warranties. "We put the time in up front to ensure there won't be any major problems," Compton explains.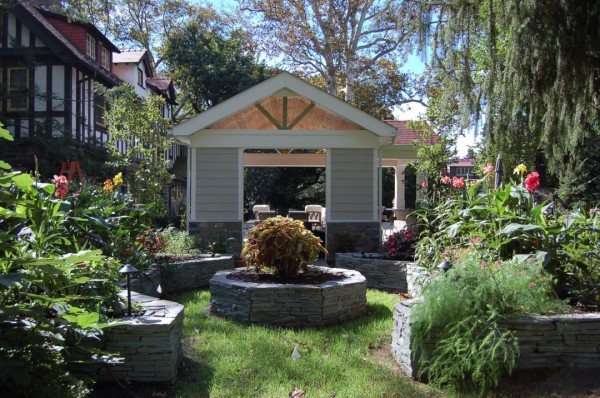 "In my first meeting with a new customer, I start by looking at the space inside the house. I look at the sightlines from the heart of the house to see how the outdoor space interacts with the indoor space. I look at the homeowner's style and taste and note what types of cabinets, tile and flooring they have."
Outside, Compton and the homeowners discuss both the features the homeowners envision for that space and how they imagine they want to be able to enjoy the space. Do they want a fire feature? Do they want to be able to eat outside regularly? Do they want a fixed outdoor kitchen/bar area? Maybe they envision spending lots of time relaxing at the pool listening to music, or want separate space for grownups and children. The technical aspects of the yard—including things like water runoff, downspout location, rainfall drainage and where sunlight falls— are also noted. With all of this information, and the homeowners' wish list and budget, Compton creates a design and prepares an estimate that includes all aspects of the project. Back at the site, Compton and the homeowners go over the design to ensure the final product is not only what the homeowners want, but is something they will truly enjoy.
Compton explains, "There is often a need for carpentry, refinishing or expanding asphalt driveways, pool installations, electrical, plumbing or other specialty subcontracting. We keep all of those moving parts working together smoothly so that the homeowner doesn't have to deal with individual subcontractors—only with us. We put schedules together, handle permits and inspections, and oversee all contractors in a complicated project. I am on every job site at least once a day for quality control and to ensure that industry standards and our standards are being met."
Compton says, "It's our experience and attention to detail and quality, from our owners to our work crews, that ensures we deliver a space that makes our customers say, 'I'm so happy that I picked up the phone and called CKC Landscaping.'"
CKC Landscaping Inc.
West Chester, Pa. | (610) 436-1810
SCompton@CKCLandscapingInc.com
CKCLandscapingInc.com
Published (and copyrighted) in House & Home, Volume 20, Issue 9 (March 2020). 
For more info on House & Home magazine, click here. 
To subscribe to House & Home magazine, click here. 
To advertise in House & Home magazine, call 610-272-3120.