HOME FRONT: Get a Grip
In the grand scheme of our home, the littlest things can often get overlooked. We spend hours agonizing over cabinetry in a kitchen, tile in a bathroom and pavers for a hardscaping project, but what about the things we touch with our hands on a daily basis? We're speaking of course about the knobs and handles around a home. More than just utilitarian, these hardware items deserve a chance in the spotlight, where their details can be properly appreciated.  
Smart to the Touch
Now that our cars have keyless entry, we almost never take our keys out of our bags, so when it's time to open the front door, we're left fumbling. Save time without sacrificing style with the newest luxury line of smart technology from Baldwin Hardware. Evolved allows users to open and close doors via a smartphone through an app that tracks access history and provides remote unlocking as well. Available in 18 handleset and three deadbolt styles, the technology is concealed in a sleek design that is expected of this iconic brand. (Available at BaldwinHardware.com, pricing starts at $495 and varies)  
Mane Attraction
Use of the lion head in décor dates back to ancient Egypt, and it continues to be widely viewed as a symbol of strength and royalty. The St. Georges cabinet hardware collection from Classic Brass allows us the chance to dip our toes into this historic imagery without veering into the eccentric. The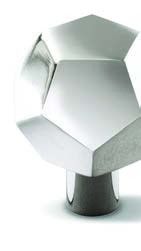 collection, available in 33 finishes, features a drawer pull with an intricately  designed lion's head, including mane, and matching knob. Coordinating pieces in the collection show floral-like details, making this a versatile yet bold choice for a kitchen. (Available at Classic-Brass.com)
Bold & Brilliant  
Inspired by the faceted sphere commonly used in French and Italian furniture from the 1940s and '50s, the Camden collection dazzles in its light-reflecting abilities. Available in five finishes—polished chrome, polished nickel, satin nickel, lacquered burnished brass and bronze—the knob and pull bring a definitively modern look to cabinets. (Knob and pull start at $14 and $21, respectively, for RH members, available at RestorationHardware.com)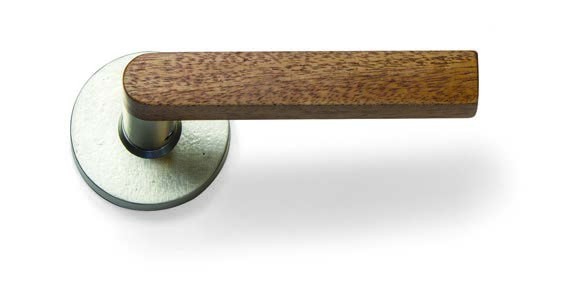 Hard to Handle
Crafted using Brazilian walnut or ipe (pronounced ee-pay) hardwood, this flat wood handle lever brings a warm feel to the tools we use to open and close the various doors around the home. Ipe is known for its durability and resistance to weathering and can range in color, but the manufacturer allows use  of any other hardwood without an additional fee. These levers are available in several finishes and crafted in the U.S.A. (List price is $138, available at SunValleyBronze.com)
Published (and copyrighted) in House & Home, Volume 19, Issue 2 (August 2018). 
For more info on House & Home magazine, click here. 
To subscribe to House & Home magazine, click here. 
To advertise in House & Home magazine, call 610-272-3120.