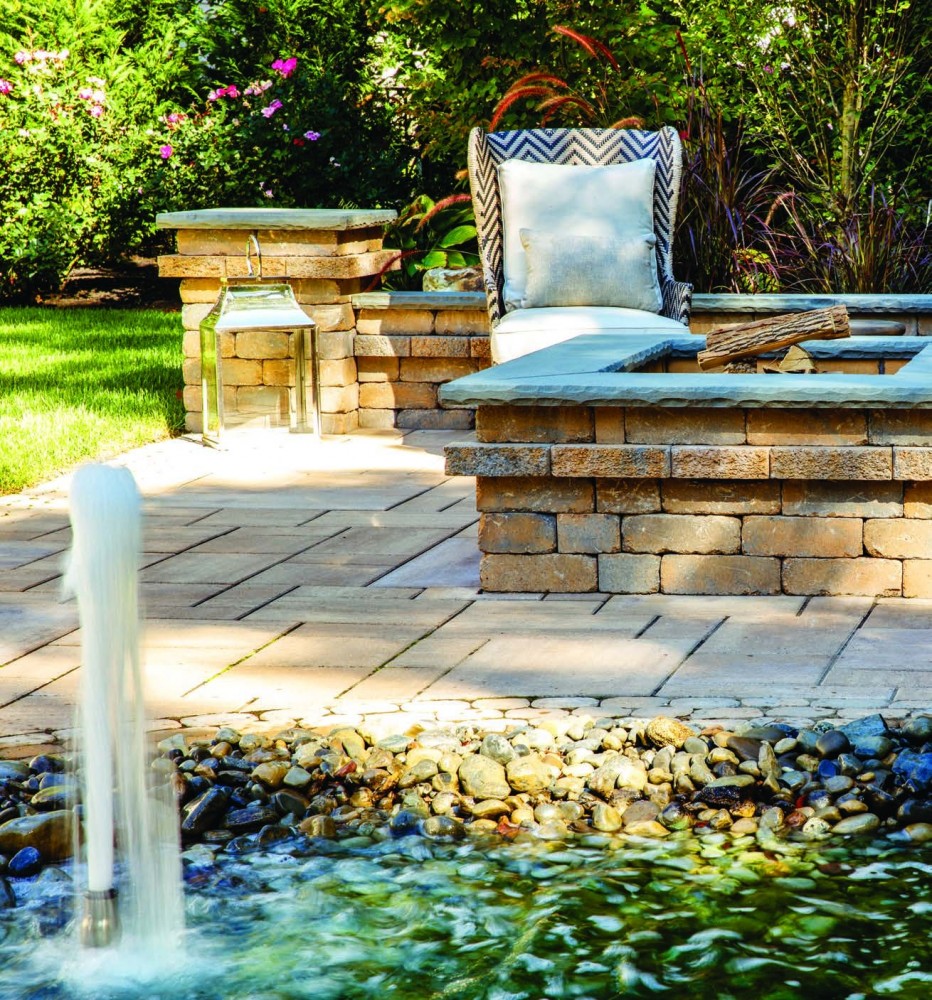 Creating a backyard oasis means bringing together multiple elements—the deck, the patio, the landscaping, water features and maybe even a pool. But only careful planning and design can ensure that all of these elements work together in perfect harmony.  
We talked to some of the area's landscape designers to find out how to best bring together multiple elements of a landscape design and create a space that you'll love.  
Ed Swietanski, sales manager for Gill's Landscaping, says that you must look at the project as a whole in order to ensure everything works together.
 "We often will come up with a hardscape layout, so we can incorporate a particular species of tree or so that an already existing plant grouping fits in. The goal is that the end result is cohesive. A bad landscape can make even the  best hardscaping installation look bad," he says.
It's also important to think about how you're going to use the space and who will be using it, says Swietanski.  
 "For example, a hedge of knockout  roses may be the perfect plant in regard to size and color around a patio area with a fire pit, but you may think twice if the grandkids are going to be running around making s'mores because of the thorns. A few adults sitting around the fire enjoying a cocktail is a different story. A good designer will take the whole picture into account  during the layout process."
The look of the hardscap- ing itself is also a critical element  and the options have come a very long way. Homeowners now have more choices than ever when it comes to material selection for their project.
 "Brick paver manufacturers have done a great job of offering new styles year in and year out," says Chris Demato, owner of Rock Bottom Landscaping  & Fencing. "Some popular products that they have created are retaining  blocks made to look like natural veneer stone walls from which we can create outdoor kitchens, sitting walls, decorative columns or terrace walls. The manufacturers have also created pavers that look like popular  natural stone choices like Bluestone or fieldstone."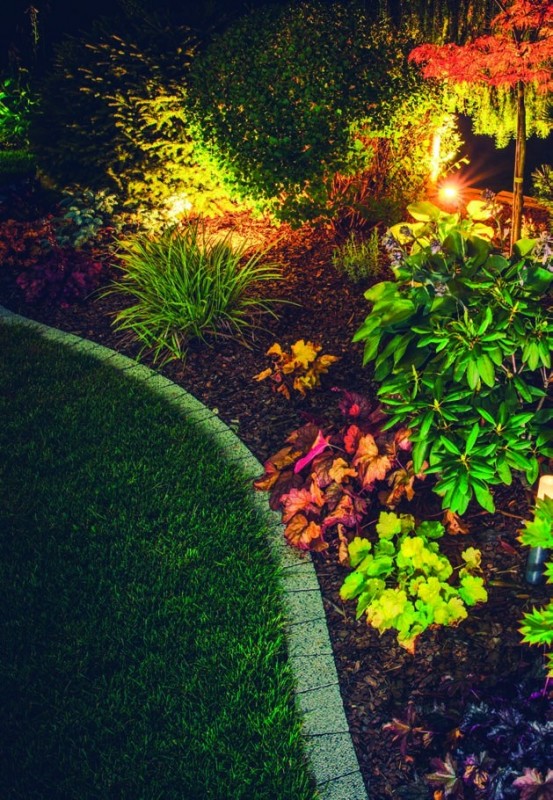 A SPACE TO FULLY ENJOY
In addition to ensuring the landscaping and hardscaping  flow together seamlessly, you also want to create a space where you can maximize your enjoyment outside. 
Diane Marrazzo, coowner  of Marrazzo's North River, says that homeowners are seeking more from their yards than ever before. These landscape ideas "extend beyond the standard deck or patio." Today's homeowners  want backyards with a lot more bells and whistles.
She says that add-ons such as a quoit pit, an Italian bocce court or other activities help enhance the overall enjoyment of time spent outside. Marrazzo says that having a great sound system is also something that homeowners should consider. 
 "Something that is often missing from our outdoor entertaining area is an epic sound system," she says. "We  recall the retrofitted boulder speaker from 25 years ago. However, the sound quality has fallen short and we often resort to a jam box—but if that is taken out of WiFi reach, it becomes disabled." 
Marrazzo says there are a lot of new options that homeowners might not even know exist. "We are currently hosting sound seminars once a month for those ready to invest in an outdoor sound system to truly enhance their space," she says. "And yes, the sound is epic." 
FIRE & WATER
A fire pit or fireplace also makes a nice addition to an outdoor living space and the options there have advanced as well. 
 "Everyone loves a fire pit but not all of us love the smoke," says Marrazzo. "In fact, some townships forbid open burning.  A gas or propane-fueled fire pit could be a terrific option and they come in all sizes with all kinds of conveniences." 
Jason Turpin, co-owner of Turpin Landscape Design/Build, says that adding a fire feature also increases your usability of the space. The warm fire encourages homeowners to spend time outside even when it's getting chilly in the spring or fall. While Turpin says they get  a lot of requests for water features or fire features,  he says that having both really knocks one out of the park.
 "An outdoor living area that has both fire and water features increases both the usability and the enjoyability factor of an outdoor living space," Turpin says. "There's nothing quite like the sound of running  water. And then w hen you add a fire feature to it, it just makes the backyard that much more enjoyable."
Turpin says they install ponds, pondless waterfalls and also fountains, such as bubbling urns. The choice that is best for your property all depends on the size, your maintenance requirements and your budget. But there is definitely a water feature that can work for any property or person. 
George Mihalchick, owner of Ponds by George, says that adding a pond is a great way to create a personal sanctuary in your own backyard. Of course, he adds, a lot of people are afraid that it's going to be more work than enjoyment. But he says that if installed properly, a pond is a lot less work than most people think.
 "It's much less work than a pool," he says. "People are often surprised how easy a pond is to maintain—assuming it was installed correctly." 
And the benefit is creating that sense of a private oasis.
 "After a hard day of work, nothing beats sipping a glass of wine or enjoying a beer and listening to the sound of the water," Mihalchick says. "What got me into the business were family trips to Bushkill Falls. There's really nothing like watching and listening to flowing water. It's soothing." 
But Mihalchick stresses that it has to be done properly. There's an art—and a science— to the design. With a waterfall, Mihalchick will strategically add a boulder or a log where it's needed in order to create the proper "pitch" of the water sounds. He says this is important  so that it's not too loud nor too soft. You want to create a setup where everything is just right and that takes some expertise. Mihalchick has been installing ponds for more than 30 years.
He adds that many homeowners also enjoy incorporating fish into their ponds. That can make the pond ownership experience even more enjoyable. 
LIGHTING IT ALL UP
Another important feature to an overall landscape design is lighting. Turpin says that lighting is often thought of in terms of throwing some path lights in around walkways but there is an art to professional landscape lighting that can take the space to a whole new level.
 "Uplighting some trees or lighting up your water features all makes the space aesthetically appealing in the evening hours," Turpin says. "It also makes the space more useable by increasing the functionality. You can enjoy the outdoor space even after the sun goes down." 
Mihalchick adds that lighting  up your pond creates a "whole different look," and allows you to enjoy your water feature in the evening hours. 
 "Of course, you don't want airport lighting out there—just enough to bring out the beauty of the formation of the rocks and to see the glow of the water,"  Mihalchick says. "With lighting you can have a backyard oasis day or night."
Gill's Landscaping
Mullica Hill, N.J.
(856) 223-9770
GillsLandscaping.com 
Marrazzo's North River
Bucks County, Pa.
(215) 598-1412
MarrazzosNorthRiver.com
 Ponds by George
Southampton, Pa.
(215) 396-7500
PondsByGeorge.com 
Rock Bottom Landscaping & Fencing
Belle Mead, N.J.
(732) 873-6780
RockBottomLandscaping.net
Turpin Landscape
Design/Build
Coatesville, Pa.
(610) 389-1119
TurpinLandscapeDesign.com
Published (and copyrighted) in House & Home, Volume 18, Issue 11 (May 2018). 
For more info on House & Home magazine, click here. 
To subscribe to House & Home magazine, click here. 
To advertise in House & Home magazine, call 610-272-3120.