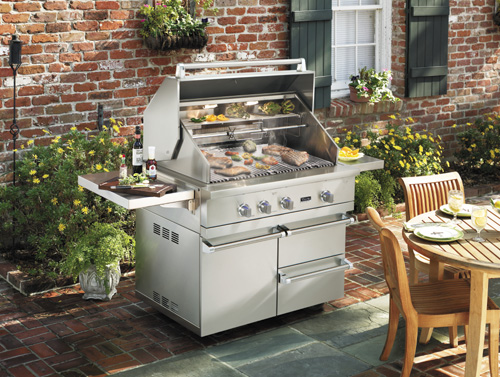 When we think of summer, we think of backyard patios with lounge chairs, a pool just a few feet away, sunshine warming our skin and good barbecue. In fact, some people place the utmost importance on what's cooking on the grill, and rightly so. Cooking on the grill is an essential summer pastime. But how do we get the perfect barbecue? House & Home talked to the professionals when it comes to grills and they told us everything there is to know to achieve the best barbecue possible this summer.
Making the purchase
For those who have never purchased a grill, it might seem like it's an easy choice to make. You could just go into a store, pick one out, load it up and head home. But buying a grill is more in-depth than that. There are different types of grills for different purposes of barbecuing, the most popular being gas, electric and charcoal.
"[When we meet a customer we] discuss their cooking habits or what they hope to be cooking," says Sam Stoltzfus, owner and president of Lan Chester Grill & Hearth. "Are they doing primarily smoking or are they doing lots of food fast? We have to discuss their cooking habits/goals to determine which is best suited for them. Most people end up going with gas. I highly recommend doing a small gas and then a wood pellet, also."
If you are unfamiliar with wood pellet grills, they are very versatile. "They're good for smoking, baking and cooking," says Stoltzfus. "One thing with a wood pellet grill is you can set the temperature at say 350 degrees and fill the hopper with pellets, push a button and walk away. It will maintain it."
Then of course you use flavored pellets for the flavor of smoke you want, says Stoltzfus, like apple, cherry, hickory, mesquite, Mexican heat—the variety is endless.
More often than not, most people will choose gas grills over other choices because it is more convenient and faster.
"When a homeowner chooses electric he basically has no choice because either the [homeowners'] association or the space where he's putting it won't allow him to have anything else besides that," says Loyd Miller, president of Alber's Fireplaces.
"Charcoal is the old style. If you are a connoisseur you will have a little charcoal grill on the side because—and I know it's a matter of opinion—the food does come out somewhat differently, tasting-wise." says Miller.
In addition to choosing the perfect grill for your needs, Miller says that it is important to have a plan for where you want to put your grill. "People make the mistake that they put [their grill] in the wrong position. They have to plan that," says Miller.
He says thinking about where the wind blows in the yard and putting it far away enough from the house is the key to having the grill stationed properly. "Convenience, that's all it is," says Miller. "Not that you want to walk 100 feet from your house to get to the barbecue."
Spicing it up
For the homeowner who wants the most out of their grilling experience, there are a lot of options to think about that will take your grilling experience to the next level.
Both Stoltzfus and Miller agree that having a secondary option to a main grill is key when grilling. You might just have a gas grill for hot dogs and hamburgers for your family barbecues, but then opt to have a charcoal grill for steaks and ribs.
For those who have their grills built in to outdoor kitchens, Stoltzfus recommends adding in trash drawers, refrigerators or ice drawers, infrared side-burners and a smoker of some kind to get the ultimate use out of your grill station.
As for making the actual grilling part easy, grill technology is up and coming.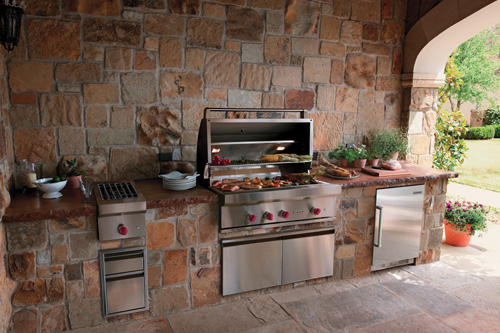 "When it comes to thermometers, they are all digital now," says Miller. "You put it in and it tells you exactly when it's ready. Not like the old days when you use the finger test. It makes it easier for homeowners to know when it is done and not ruin the meat. Depending on how you like your meat—rare, medium rare—the thermometer will tell you exactly where it is at that point."
"We have a wood pellet grill that now has an app where you can start it," says Stoltzfus. "With the gas [grills] we have thermometers with apps that you can plug into the meat and check what the temperature is remotely."
And an added amenity to think about, Stoltzfus says putting a roof over your grill will make all the difference.
"It just keeps everything nicer. You can be out there cooking when it's raining. If a rain storm comes up while you are grilling you can continue," says Stoltzfus. "Of course there are lots of roof options. You can put a huge umbrella up, you can do a pavilion or we also have a louvered roof that you can have open to let the sun and air in or when the rain moves in you can close it and stay dry underneath."
Keeping it clean
We all know that things start to break down if they are not maintained properly and this goes for grills, too.
"Most homeowners ... have a wire brush and they brush down the grill racks, they'll sometimes clean out the drip pan where the fat sits," says Josh Ostrin, owner of Aamatex BBQ Grill Cleaning. "But most people, they run outside, they grill and then come inside and they eat. Nobody goes back to clean it."
Ostrin recommends getting your grill thoroughly cleaned once a year. "We are getting rid of all of that built up grease, the marinade, the sugars, the fats. Those are things that potentially could have a flash fire," says Ostrin. "It's carcinogenic, all that black burnt excess from the meat."
"We take out the interior guts of the grill. So we take out the grill racks, we'll take out the igniter bars, the flavorizer bars. Anything that we can pull out, we pull out and we put it into a hot steam bath with some cleaner in it that removes all of the debris," says Ostrin of his cleaning process. "Then by hand we actually clean the entire interior of the grill as well as the exterior of the grill."
A good and thorough cleaning does the grill good and extends the life of it. A lot of the stuff that stays stuck onto the grill is what will ultimately deteriorate it, which is why it's important to get it professionally cleaned or tackle it yourself.
"If you take care of your car and change the oil, it can run for 300,000 miles," says Ostrin. "[The life of the grill] depends on the quality of the grill itself. It's an investment."
RESOURCES
Aamatex BBQ Grill Cleaning
Metuchen, N.J.
(732) 745-8663
AamatexBBQGrillCleaning.com
Alber's Fireplaces
Green Brook, N.J.
(732) 629-7444
AlbersFireplaces.com
Lan Chester Grill & Hearth
Gap, Pa.
(717) 442-8794
LanChesterGH.com
Published (and copyrighted) in House & Home, Volume 16, Issue 11 (May, 2016).
For more info on House & Home magazine, click here.
To subscribe to House & Home magazine, click here.
To advertise in House & Home magazine, call 610-272-3120.