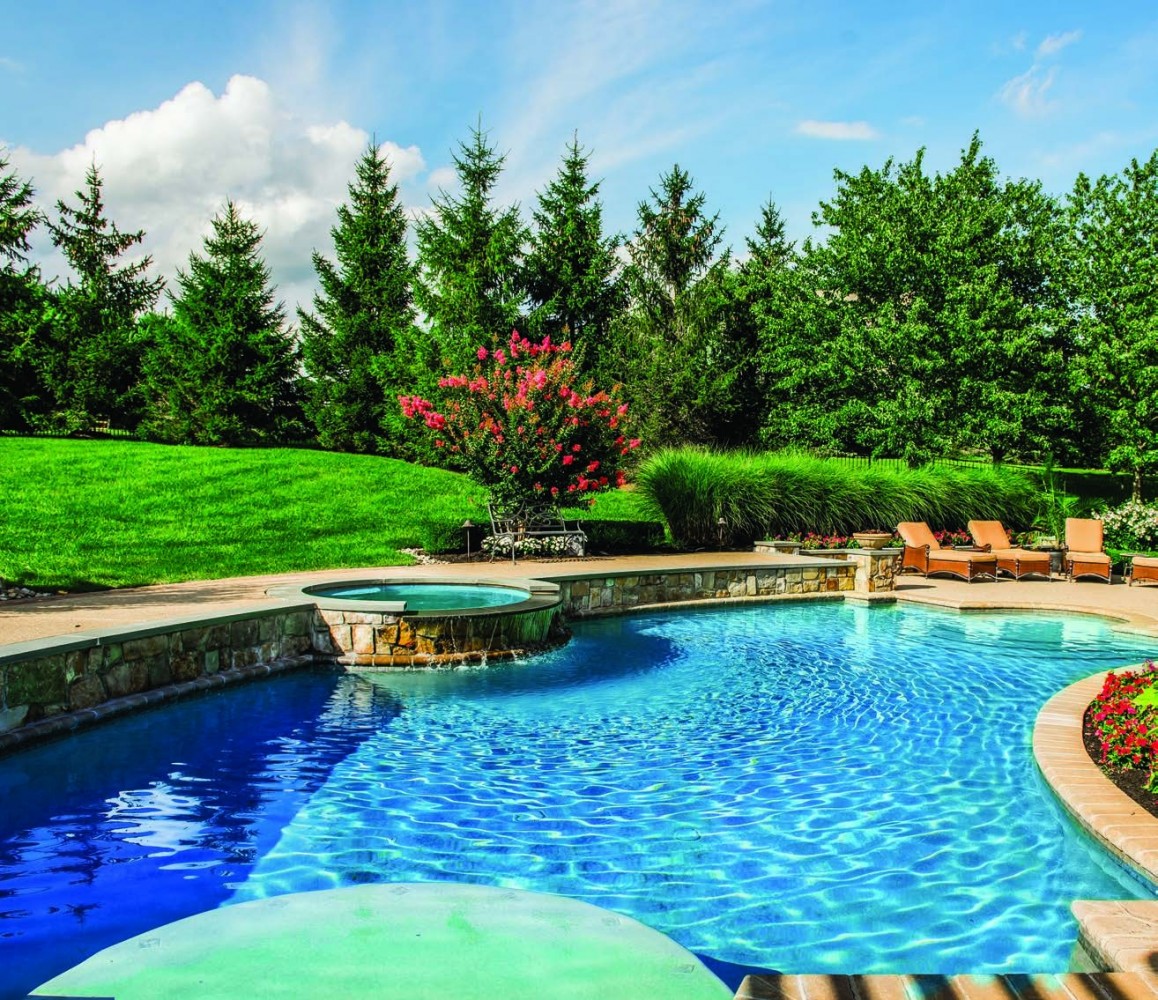 Leaving thoughts of a new pool until spring is a big mistake that might leave you without one come summer. While people might now be closing up their swimming holes, experts say fall and winter are the best times to start the process. So how do you get the whole thing rolling? It's time to do your homework.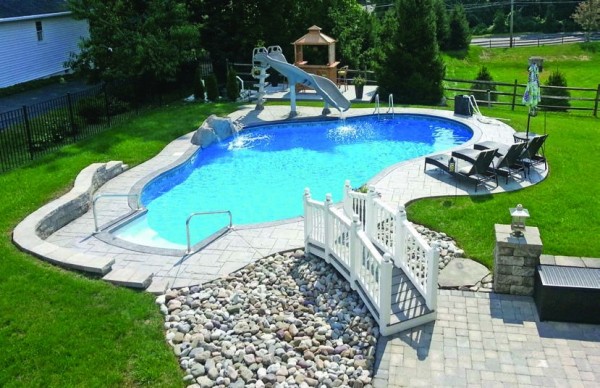 A PLAN OF ATTACK
 "Like with any home project, planning and designing a pool doesn't happen overnight," says Mike McCool, general manager of Swim-Mor Pools. "[It] starts with a conversation between the homeowner and the designer about what they are looking for, what they like and what they want to get out of the pool (entertaining, kids' hangout, private backyard getaway or all of the above)," he says. They then work together, looking over existing designs and discussing what jumps out at them as a great look, feature or option.    
Do some online research or peruse magazines for photos of backyards that intrigue you, "even if it is only a few amenities  that capture your attention,"  says Tom Casey, VP of sales for Anthony & Sylvan Pools. He says that a good company  assists the homeowner with the overall backyard design, using components specific for the family's needs. "[You want a company with] trained design professionals well-versed at taking your backyard dreams from concept to reality with precision and process," says Casey.
 "The best strategy I would offer anyone considering a new pool project would be to try to find the most qualified designer and builder in your market," says Andrew Pluta, in-ground pool sales manager and designer for Niagara Pools & Spas. "I have seen people struggle, wading their way through pool bid after pool bid, unaware that some proposals  they have received do not address important aspects of the project." He says that shoppers should find a designer with the  experience to see all the details the project will entail.
 "An initial meeting would always be at the client's home. There is no other way to know the scope of the work involved and provide an accurate estimate," adds Pluta. "I have seen pool builders advertise a low cost for a complete pool project and there is no way that one blanket cost  would apply to varying possible scenarios that a build might present."  
At this first meeting, the pool builder should discuss township requirements, setback distance codes, engineering requirements  and impervious cover percentages, among other notions that could come into play. "I always begin by attempting to provide a pool design that is in compliance with all codes, but sometimes that isn't possible and my client may choose to get a variance. The variance process is a good bit of red tape and some extra leg work but we are able to do a lot of it and make it as easy as it can be for our clients," Pluta says.
FIGURING OUT THE FEATURES
The fun really comes in when a homeowner can choose the pool's features and visualize how the space will look once complete. Many companies offer 3D designs.
Bryan Hull, partner at Del Val Pools & Spas, has had great success with Pool Studio 3D, a computer enhanced design program. "With it you can see how your pool would really fit into your property. You can add trees, a patio and simulate what your pool can really look like," he says. "More than just a drawing mock-up, this can even show your pool painted, with different features and the like," he says.
Gunite is often the go-to pool, which allows for more flexibility in features, says McCool. "With custom gunite pools, there are a number of options and features, from waterfalls to vanishing edges to pebble finishes and glass tile," says McCool. "They are mainly limited by your imagination and budget."   
Casey agrees. "Options for pool designs are nearly limitless today, which results in no two of them being exactly alike," he says. "The best optioned pools are a result of close collaborative design meetings with [the team] to help decide on the pool to fit your needs and your budget."
Hull also suggests a pool made of gunite and using saltwater as a more sanitized option. He says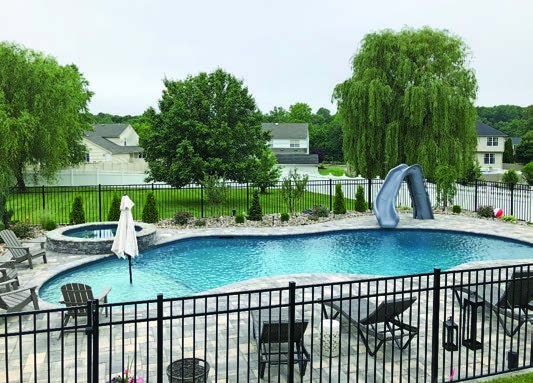 pool lighting is an interesting touch as well. "Color changing lights are very popular and now they can even change your pool any variety of color and make your backyard the same color," he says, adding that LEDs work well with automation, allowing you to change the lights through your phone.
Other pool options Pluta discusses with every potential client include the type of pool decking to surround  it, steps, benches, sun shelves, heaters, automatic pool cleaners, slides, grottos, waterfalls and other water features, covers and filters and pumps.
TAKING ACTION  
 "The general public is becoming increasingly aware that the end of the summer and early fall are the best times to research companies, decide on pool options and launch  construction as weather conditions are the most permissive, permit cycles are minimized and discounted pricing insures the greatest value,"  says Casey. "Why not launch your dreams today?"
Another reason fall and winter are great times to meet with and interview pool builders, says Pluta, is because, generally, pool builders have fewer projects on their plates and can dedicate more time to the process. "It also allows for time to work on permitting once a commitment to the project was made," he says. "A normal time frame to get  all of the required permit approvals is four to six weeks. If we are dealing with a variance or unusual circumstance, it could be three to six months to get all of the approvals worked out. This loss of time is a lot easier for everyone to deal with when it's cold and you are not missing use time with the pool."
Construction can even begin in the fall, says McCool. "It is best to get as far as you can in the fall, not only in the design and permitting process but the construction of the pool as well. The weather  we had this spring should be all the proof one needs that, if possible, start construction in the fall and avoid as much of the weather delays as possible that spring weather may bring," he says.  
 "We sell out at the beginning of the year. There are only so many pools we can build," says Hull. Start shopping early, get your ideas together and maybe even learn your finance options. "The best thing you'll soon see is that pools are now extensions of your living room. Besides the swimming, people love the ambiance, and the way they become places to hang out and bring the family together," he says. "Even in the colder months, you'll find yourself using the pool area all the time."
RESOURCES
Anthony & Sylvan Pools
Serving the tri-state area
(866) 718-2657
AnthonySylvan.com
Del Val Pools & Spas
Turnersville, Mantua and Elmer, N.J.
(856) 629-2999
DelValPoolsAndSpas.com
Niagara Pools & Spas
Voorhees, N.J.
(856) 768-7600
Turnersville, N.J.
(856) 875-6600
Bristol, Pa.
(215) 781-1300
NiagaraPool.com
Swim-Mor Pools
Mount Ephraim, N.J.
(856) 270-6571
Northfield, N.J.
(609) 755-3046
Millstone Twp., N.J.
(732) 422-5314
SwimMor.com
Images courtesy of sources including Anthony & Sylvan Pools, Niagara Pools & Spas and Del Val Pools & Spas
Published (and copyrighted) in House & Home, Volume 19, Issue 2 (August 2018). 
For more info on House & Home magazine, click here. 
To subscribe to House & Home magazine, click here. 
To advertise in House & Home magazine, call 610-272-3120.