Looking on The Bright Side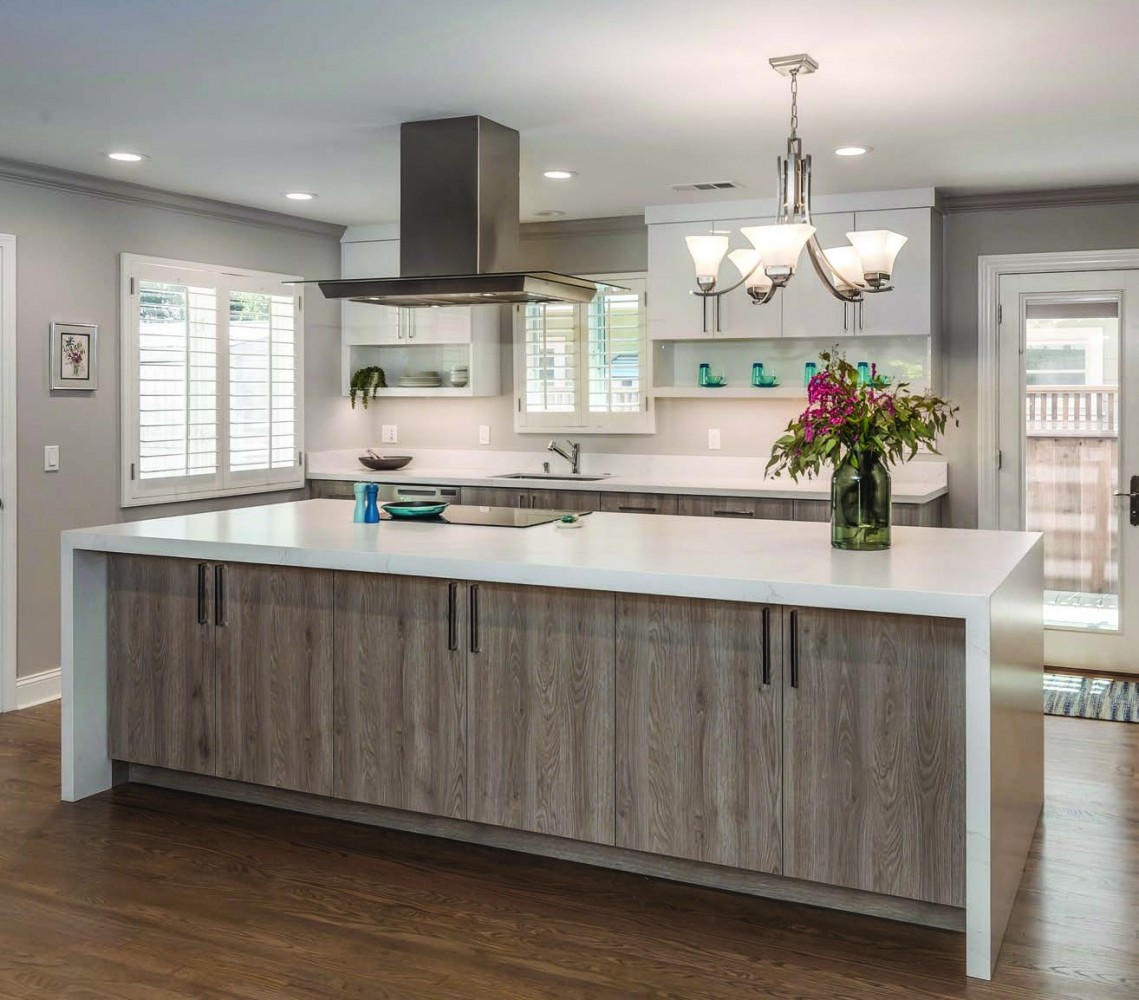 As 2019 approaches, manufacturers and lighting experts are already readying for what lighting technology, finishes and fixtures are going to be making their way into the showrooms and, shortly afterwards,  homes across the country. House & Home spoke with some local lighting design leaders to get an idea of what is on the horizon and what homeowners can do today to brighten up every room of their abode. 
THE NEW CLASSIC  
It's no secret that the modern farmhouse look has been dominating home design for the past few years. Craig Beierlein of Furlong Lamp & Lighting says customers  can expect to continue seeing light fixtures that support this look but not just in bronze and brushed nickel.   
 "Soft gold is an up-and-coming  finish," he says. "Soft gold brings out the warmth and mel- lowness of gold but works well with almost any décor from modern  to updated farmhouse styles."
Polished nickel is also making its way up the ranks and like soft gold, it brings a bit of warmth to a modern-looking room that may feel more icy than inviting.  
To top it off, mixed metal finishes like oil-rubbed bronze intertwined  with antique brass or nickel intermixed with bronze have recently become more popular and Beierlein said customers can  expect this trend to start showing up in more and more stores.  
Scott Fenton, regional showroom manager at Denney Electric Supply, agrees, adding that brass is  also making a comeback but this time it's a little less glossy.
"It's not that shiny, gaudy stuff that everybody used to have," he says. "It's really a subdued brass. It's really sharp."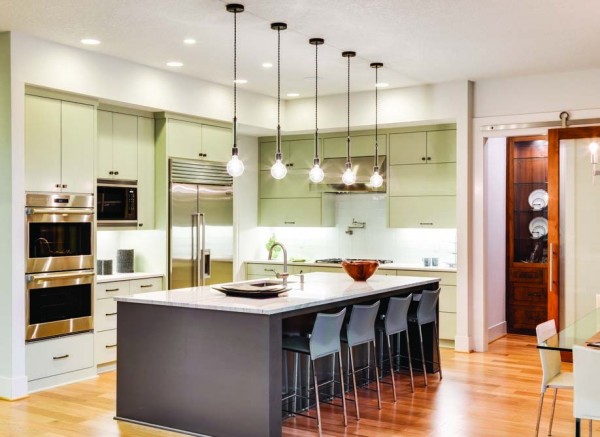 SMARTER LIGHTING
While you are updating the bulbs and light fixtures in your home, you might also want to look into bringing your house into the 21st century by installing switches or modules that will allow you to control your lights with speaker smart devices like Amazon Echo or Google Home.   
With these smart devices and the right switches, you can speak a command and instantly have your lighting adjusted to your liking.  
There are two primary ways to make the lights in your home work with speaker smart devices. One is to swap your switches and outlets out for ones compatible with your speaker. The other is to use modules that plug into your already existing outlets.  
 "Basically, it's a little square box and you plug your lamp into it and [Amazon Echo's] Alexa will control that device also," Fenton says. "So, if you didn't want to go and change all your receptacles, you could buy these modules."
Either way, it's an easy way to make your home feel updated and in tune with the latest smart home conveniences without needing an electrician to do these upgrades.
"The homeowner can do it themselves if they wanted to," Fenton says."It's actually very simple."
LED DOMINATES
LED lighting has come a long way says Dave Nyce, a lighting specialist at Bergey's Electric. While some earlier LED lights may have cast a purple tint that was unflattering, today's LEDs are bright and give off a beautiful glow. 
 "We don't suggest anything but LED lighting," says Nyce. "We almost don't even carry incandescent."
The dominance of LED lighting is nothing new. The bulbs emit almost no heat, last longer than incandescent lights and LED products often carry three- to five-year warranties.
Nyce says one of the most popular LED products that can make a big improvement to a space without much effort is lineal countertop lighting. While the old ways of illuminating  your countertop and cabinets could look uneven and spotty, these lineal LED lights are better at diffusing the light and therefore giving you a more consistent and even-toned brightness all the way across. 
 "Instead of just being like hockey puck spotting all over your countertop and doing a very marginal job," Nyce says, "this does an absolutely beautiful job."
Another way to use a bit of LED lighting to huge effect is to have points of interest in your home illuminated in a way that highlights without being distracting. 
 "Nowadays you can make a piece of art on the wall and I can sell you LED lights to light it," Nyce says. "And you don't know where the light source is coming from; it just lights anything on your wall."
This is especially impactful when you can use pieces in your home that are unique. For example, in his living room, Nyce took an  old antique tool chest that belonged to his father and used well-placed LED lights to elevate the whole design of the room.  
 "I didn't move a tool in it," Nyce says. "I simply lit the inside of it and put a chunky, glass top on it … that chunky glass top illuminates through the tools. People walk in my room and go, 'Gosh that looks beautiful.'"
RAPID EXPANSION  
If you don't have a piece of artwork that you want to make the focal point of the room, there is always  the option to bring in a statement-making light fixture. Ken Taub, owner of Classic Lighting & Accessories, says adding something like a large chandelier to a room can give a space that wow factor.
But it's not just about the big lighting piece in the room. When you want to revamp the design of a space, it's vital to include all different kinds of lights from small to large pieces.  
 "You don't want to have a room with just recessed lighting in it," Taub says. "It becomes very sterile and almost commercial looking."
For the best results, he suggests mixing and matching different light fixtures.
 "You want to have lamps in there," he says. "You want to use wall sconces. Potentially a chandelier.  There's so many other options to add to a room to light it up properly and to give you the best overall effect."
For first-timers, this method of lighting can seem overwhelming, so Christie Mesiano, showroom  lighting manager at Ace Plumbing, Heating, Electrical and Lighting Design Center, says the best way to start is by picking a lighting fixture that you really love and then moving on from there.  
 "Think of your lighting as an extension of who you are and how you live your life," she says.  
She also suggests that homeowners  don't play it too safe because today's design trends are moving away from being overly color coordinated. So, people need not pick one finish and stick to it for every piece.  
"It's ok to use different metals together," she says.  
While the options for redoing the lighting in your home are endless, the desired result is always the same: a bright space that feels like home.  
 "Lighting is like the jewelry to our fine fashion of furniture," Mesiano says. "It provides the finishing touch to an otherwise ho-hum space."
RESOURCES
Ace Plumbing, Heating & Lighting Design Center
Vineland, N.J.
(856) 692-9374
TeamAce.com
Bergey's Electric
Hatfield, Pa.
(215) 723-5518
BergeysElectric.com
Classic Lighting & Accessories
Montgomeryville, Pa.
(215) 368-0689
ClassicLighting.com
Denney Electric Supply
Ambler, Pa.
(215) 628-8880
DenneyElectricSupply.com
Furlong Lamp & Lighting
Bucks County, Pa.
(215) 794-7444
FurlongLamp.com
Published (and copyrighted) in House & Home, Volume 19, Issue 4 (October 2018). 
For more info on House & Home magazine, click here. 
To subscribe to House & Home magazine, click here. 
To advertise in House & Home magazine, call 610-272-3120.