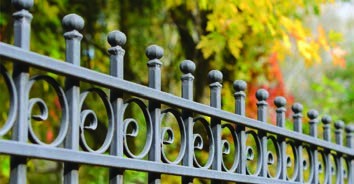 Fences serve such valuable functions on a property. Whether for protection, privacy or aesthetic appeal, fences come in all shapes and sizes to serve your needs. If you're in the market for a fence, then you might be wondering what your options are and how to choose what's right for you.
Paul Stein, owner of Elegant Fence, says that your specific needs as a homeowner will help start the process of finding the fence that is right for you. While some people choose to install a fence in order to keep their pets in their own yard, others are specifically looking for privacy from the neighbors, or perhaps blocking out a view they don't want to see. With properties that back up to a busy road or an adjacent park, homeowners might want to block out as much of the view and sound as possible.
Of course, for many, the need for a fence is related to a pool. Stein, who works with dozens of pool companies in four different states, says that adding a fence around a pool is not only the safe thing to do—it's a required mandate in order to fulfill local code.
Whatever the reasons may be that you need a fence, Stein says that discussing your needs with a fence professional will help get the ball rolling.
 "This will help direct you to the type of fence that will work best for you," he adds. "A professional  can help guide you with the process."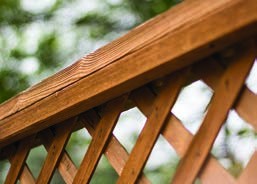 MATERIALS MATTER
In terms of the material used for your fence, there are many different choices on the market. However, there's no question that most homeowners  are moving away from higher maintenance materials,  like wood. Wood requires ongoing upkeep including sanding, painting or staining. These days, many are more interested in higher quality, longer lasting materials that are going to hold up for the long term without tons of upkeep. The fence experts we spoke with all agreed that homeowners are generally willing to pay a little more on the front end in order to ensure they have less work and better quality in the long run. 
 "More and more homeowners are moving to vinyl fences," says Steve Mullen, sales manager for FenceUSA. "Through the years, the products have become easier to install and maintain and have a great aesthetic look. On top of traditional colors, there are now many woodgrain-looking products such as the new Forrest Collection that offers a great upscale, woodgrain appearance. The technology used gives it a great look with no flaking and very low maintenance—while also lasting a long time." 
John DiGianivittorio Jr., operations manager at American Discount Fence, agrees that vinyl is a very popular  choice for its low maintenance quality.
 "In terms of color, white, tan and khaki colors are easy to clean with a very light power wash or the use of a soft bristle brush with a mixture of dishwashing liquid and warm water," he explains.
While vinyl is undoubtedly popular, Stein says that he is getting a lot of interest in bronze aluminum  fences. In fact, he says that's probably his No.1 seller right now—something that he attributes to the fact that it is "nonassuming."
 "The material blends in with everyone's natural backyard instead of sticking out like an eyesore," Stein explains. "As we're seeing  more natural backyards with boulders and patios that use earth tone pavers, I think people are becoming more interested in a fence that blends in. Another benefit of aluminum is that it's low maintenance." 
Montco Fence & Superior Structures uses Jerith aluminum fencing, which comes with a lifetime warranty on the material. "Every component of Jerith aluminum fencing is 100 percent made in the USA, and was never melted down or re-fabricated like many of their competition companies around these days," says Kelsey Gilinger. "Their fencing is powder coated with their patented FencCoat Finish. This is an environmentally friendly powder coating to ensure it will never rust, peel, chap, blister, warp or corrode."  
POPULAR ADDITIONS
There are a number of ways to add some additional interest to your fence in the form of accessories or "add-ons." Stein says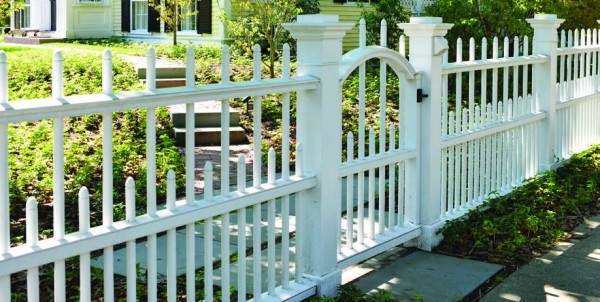 that he's seeing a lot of interest in string lights in outdoor areas and some homeowners are connecting them to the fence with special attachments.  This can really brighten up a space and add visual interest. Of course, there are also ways to incorporate lighting directly into the fence.  
 "The most popular add-ons are solar lights often used for the top of the gates and the corner posts," says DiGianivittorio. "It's important to make sure that the area you are going to use these solar caps on gets plenty of sunlight during the day in order to work properly. You will also need to change the rechargeable batteries at least one time per year as part of their normal maintenance."  
The hardware you choose for your fence will also have an impact on its overall look.
 "There are many ways to add some 'flair' to your fence," adds Mullen. "Hardware used on fences can be upgraded or you can use different latches. Adding lattice to the top portion of the fence is another way to give it a unique look."  Stein agrees that solar caps are popular and says the nice thing about them is that they can be installed years down the road.
 "We're getting a lot of calls from homeowners looking to spice up their fence by adding solar caps or decorative ball caps to their existing fences," Stein says. "These are easy additions that can be done at any time." In general, Stein says that he's getting increased interest in "fence renovations" or "upgrades."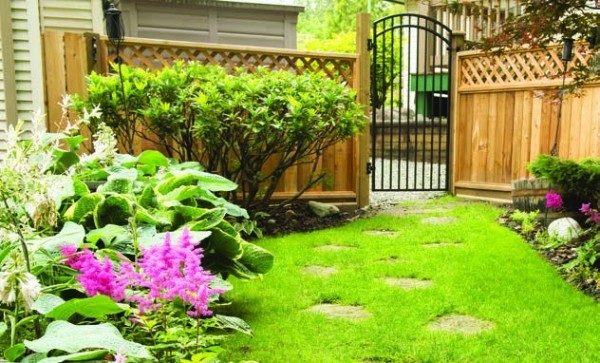 "Upgrading an existing fence can change the entire look of a property," Stein says. "People don't realize just how much of an impact the fence has on the overall look of their space until they go for that upgrade. It's a great aesthetic addition to a property that also goes a long way in boosting its value."  
While not exactly something  with flair, gates are another element not to overlook, says Gilinger. She recommends  that the gates homeowners will use most often be no more than 3 or 4 feet wide for a single gate. "I always like to mention to customers if you plan to use a lawn service in the future (or if you do currently), almost all of them will require a double gate to get their equipment in," Gilinger says. "Most standard riding mowers have a 42-inch deck, so a single gate will  be fine for that, but the zero-turn style mowers will need a much larger opening."
RESOURCES
American Discount Fence
Runnemede, N.J.
(856) 939-3022
AmericanDiscountFenceLLC.com
Elegant Fence
Serving all of Pa., Del. and N.J.
(215) 416-5019 
ElegantFenceOnline.com
FenceUSA
Serving all of Pa., Del. and N.J.
(866) 639-7599
FenceUSA.com
Montco Fence & Superior Structures
Limerick, Pa.
(610) 287-7190
MontcoFence.com
Published (and copyrighted) in House & Home, Volume 19, Issue 10 (April 2019). 
For more info on House & Home magazine, click here. 
To subscribe to House & Home magazine, click here. 
To advertise in House & Home magazine, call 610-272-3120.