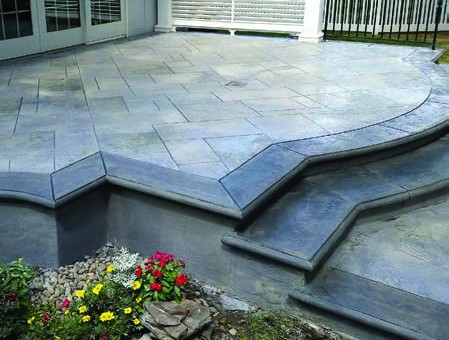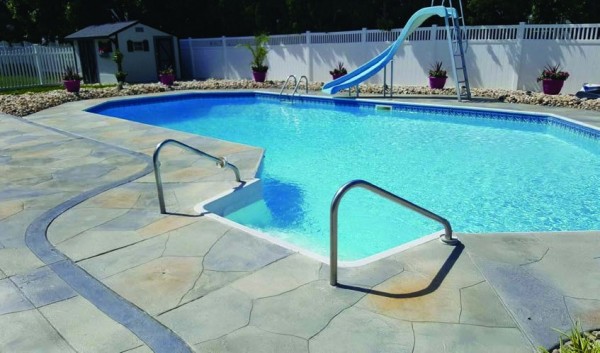 Over the years, harsh weather can cause cracks and other damage on a home's concrete surfaces. Homeowners may put off repairs due to cost concerns, but replacing that concrete is not always the answer. New Castle Artisan is a concrete resurfacing company with nearly 30 years of experience. While it is a technology that has been around since the 1960s, Gwen Kunkel, owner of New Castle Artisan, says concrete resurfacing can breathe new life into your existing surfaces whether it's your driveway, pool deck, patio—practically any concrete surface around your home— with improved products and techniques.
According to Kunkel, concrete resurfacing has economic and aesthetic value, and is often preferred over concrete replacement.
 "The benefit of resurfacing is changing a problem like cracking, pitting or damage from mold, into a valuable home improvement,"  she says. "Right now if you have concrete that's cracked or un-level, you can repair or replace it with new concrete, but you'll just have new concrete. It doesn't increase the curb appeal of your home. It doesn't increase the value of your home."
Resurfacing allows for design elements to be added to the surface, with cracks and patterns carved in by hand. When it's completed, the finished product is more valuable as a financial investment and aesthetic home improvement.
The quality of materials is also paramount, as New Castle Artisan uses polymer cements, which resist erosion. "When applied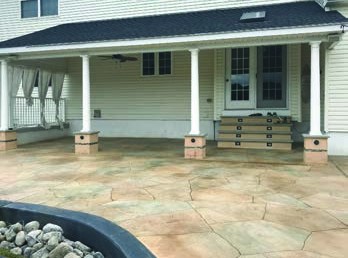 properly, they do not peel, flake or delaminate. They are absorbed into the existing concrete and grow spines that expand, creating a new cement surface that is incredibly durable as well as stain and chemical resistant," Kunkel says.
The company also stands by its work, offering a two-year warranty that can be extended. If the bond is done properly, it will last a lifetime with some routine resealing maintenance, adds Kunkel.
While resurfacing might initially bring to mind projects for sidewalks and driveways, New Castle Artisan does much more, including pool decks and flooring for garages and basements.
 "The cost to rip out and replace a pool deck is usually considerably more than resurfacing. Being that most pools are located in the backyard, just the concrete can cost up to  35 percent more because they have to wheelbarrow it in, which is labor intensive," says Kunkel.
Her company is also mindful of any concerns for damage to the existing landscaping and lawn. "As a matter of fact, aside from it being beautiful, you wouldn't even know we were there. You don't have to take down any fences.  We don't use any heavy equipment. Everything we bring is carried in and carried out, so your landscaping looks exactly the same," she says.
For interior flooring solutions, the polymer cements are beneficial because of their durability and water resistance, especially for damp spaces like basements and garages. "Our products are applied by hand for a unique artistic touch  that can be customized however you would like. We offer various styles from simple solid color flooring to textured finishes comparable to brick or natural stone," says Kunkel.
Homeowners may also want to improve other parts of their home this winter, such as fireplaces and accent walls. "In the winter when we cannot be outside resurfacing exteriors, we do like to take on fireplace and accent wall projects," says Kunkel. "In as little as one day, we can transform an old brick fireplace to look like a beautiful custom-stone centerpiece for your home. We can do the same service with accent walls that can be designed to match a person's existing décor or we can create a new style completely." 
New Castle Artisan
Blackwood, N.J. | (856) 725-3333
NewCastleArtisan.com
Published (and copyrighted) in House & Home, Volume 19, Issue 7 (January 2019). 
For more info on House & Home magazine, click here. 
To subscribe to House & Home magazine, click here. 
To advertise in House & Home magazine, call 610-272-3120.