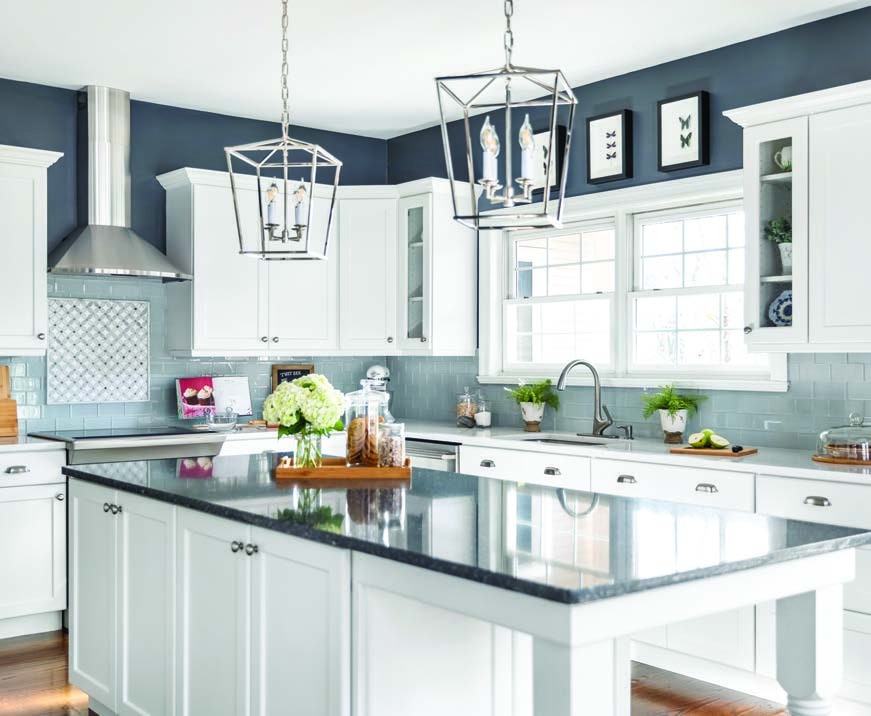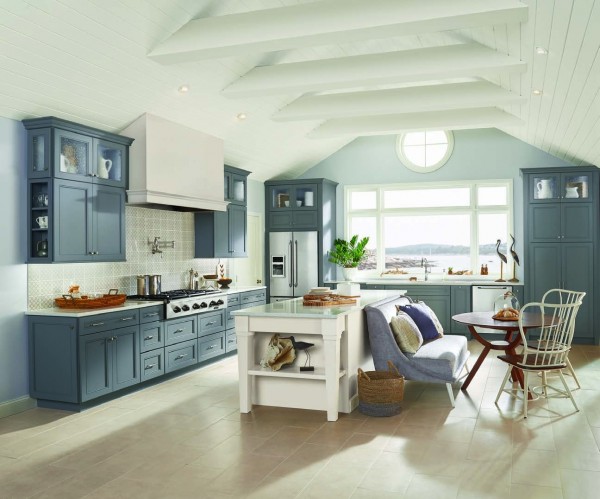 It is said that the kitchen is the heart of the home, and that is just as true in a Shore house as in a main residence, perhaps even more so. When on vacation, it is obviously a must to create a relaxing vibe in the kitchen, a place where family and guests regularly gather to make memories. A Shore kitchen has to be able to stand up to heavy traffic and sandy feet, but that does not mean style has to be sacrificed. We spoke to local professionals to find out some tips for remodeling a kitchen down the Shore.
Q: What factors go into choosing the right cabinetry for a Shore kitchen?
"Some of the important factors to consider when replacing cabinetry in a Shore kitchen are: function—how do you use your kitchen; style—what type of décor are you going for; and lighting—do you have a lot of natural light or none to make the color of the cabinets brighter? We do a lot of whites in Shore kitchens but also beach/cottage tones like blues. Storage solutions that we recommend are roll-out trays for easy access."
Joe DiCicco
Owner
The Cabinet Shop
Cape May Court House, N.J. | (609) 463-0400
CabinetShopNJ.com
Q: Why is cabinet refacing a good option for a Shore home?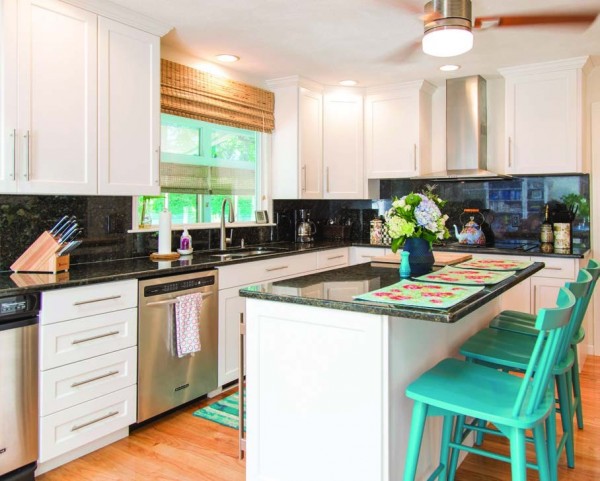 "Cabinet refacing is a permanent kitchen remodeling solution and offers more benefits than just giving your vacation home a new beachy vibe. … The refacing process transforms the kitchen, is complete in three to five days and saves the homeowner up to half the cost of replacement cabinets. They do this by laminating the cabinet boxes only in a new color and style, then installing all new doors and drawers to match. Voila, 80 percent of what you see in the kitchen is now new. If your Shore house is a rental unit, an updated kitchen will make it more desirable—getting new renters in a shorter time frame. Also, an updated kitchen with stone countertops will draw the right audience of renters for your unit plus justify a higher rental fee."
Linda Fennessy
Public Relations and Print Manager
Kitchen Magic
(800) 510-4710
KitchenMagic.com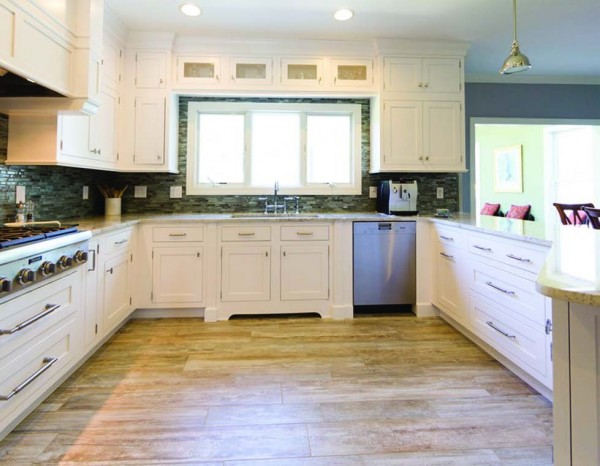 Q: What is the best option for the floor in a Shore kitchen?
"The best option for durability and the maintenance aspect is LVT, which is luxury vinyl tile. It is extremely easy to clean with a Swiffer or vacuum to pick up any residue of sand. By installing that, you can still obtain the look of a hardwood floor or tile floor, but without any of the maintenance. The product is 100 percent waterproof, so you can hit it with a hose and it won't swell or warp. It's actually one of the most durable floors on the market today. This is a great product for style too. I can't tell you how many kitchens, bathrooms, living rooms and bedrooms we've done with the LVT because it gives you the look of a wider plank hardwood floor, which is more of a timeless look and a style that is really trending right now."
Joseph Clymer
Design/Build Specialist
Amiano & Son Design-Build LLC
Tabernacle, N.J. (609) 268-5923
AmianoAndSon.com
Q: What would you recommend for a countertop in a Shore kitchen?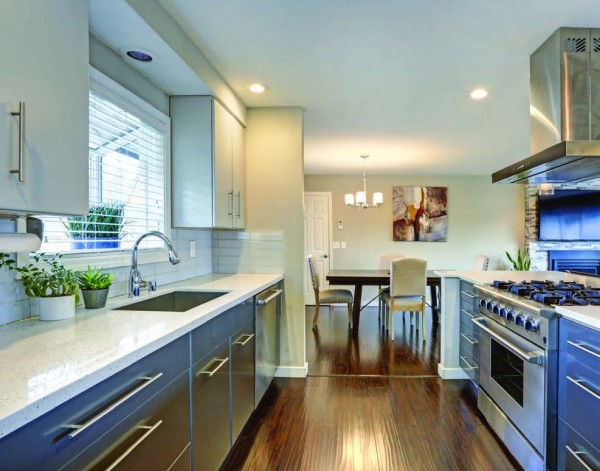 "Quartz has become the predominant countertop of choice. It's stain-resistant and heat-resistant—not to be confused with stainproof or heatproof—but you don't have to seal it and it's a relatively low-maintenance product. Over the last four to five years, the manufacturers have started putting out colors that are meant to mimic granite. For those reasons, and because of its durability, quartz has become more popular for the average homeowner. People at the Shore tend to use whiter patterns in their countertops as opposed to earth tones. It can apply to a contemporary kitchen or more like a Shore cottage type of look, so it appeals to a broad spectrum."
Quinn Harbright
Kitchen Designer
Brindisi Builders
Marlton, N.J.
 (856) 985-6219
BrindisiBuilders.com
Q: What are some colors and finishes that would work well in a Shore kitchen?
"Sixty-one percent of homeowners are choosing some form of white: satin white, frosty white or winter white. (Yes, they are all different). The classic shaker and mission styles are really trending right now and offer an authentic seashore motif. Distressed woods are coming back as well—barnwood grays and light 'wood tones' like maple offer the warmth of wood yet still create a bungalow look. Light pastels are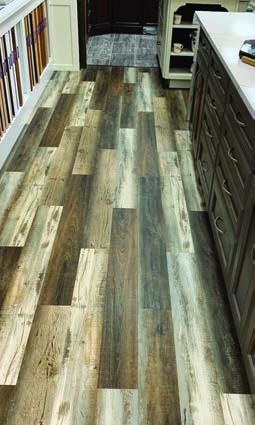 starting to get popular too. About five years ago people were using grays, blues and greens as an accent island in a white kitchen. Fast forward five years, and homeowners are expanding grays and pastels to the whole kitchen, and these are great for the beach look. Light blue or green cabinetry is the very essence of a beach theme. For the door material, wood has taken a backseat to maintenance-free cabinet doors. While the frame is still wood, the exterior of the door is a vinyl-laminate composite that is baked onto the wood frame, resulting in a very hard surface. It is virtually maintenance-free and can withstand the harsh elements of the beach and kitchen itself: salt, heat and humidity. Just a wipe usually does the trick."
Linda Fennessy
Kitchen Magic
Q: What should homeowners know before installing a floor in their Shore home?
"The Shore points are a great place to have a water-resistant/kidproof type of vinyl plank due to the higher humidity and moisture near the water sources. These types of floors do not expand and contract like real wood and are softer under feet for summer barefoot time. … Different types of vinyl plank are made and stores are selling them to their customers without properly explaining the differences. There are WPC and SPC styles and there can be a huge difference in them and your perception if you don't know. WPC is the waterproof core that is made from wood plastic composite and this in most cases is a lighter center core that is softer under foot, not as hard to walk on and will be sound-deadening in a condo or townhouse situation where people walk above you. The SPC is made of stone plastic composite and is more stiff and rigid. These floors tend to be less money and harder to dent, but give you more of a clicking sound while walking on top of them. Both products click together and offer some type of padding built in under them."
Steve Matteo
Co-owner
Matteo Family Kitchens & Flooring Inc.
Woodstown, N.J. | (856) 769-2490
MatteoKitchens.com
Select imagery courtesy of KraftMaid, Kitchen Magic, Amiano & Son Design-Build LLC,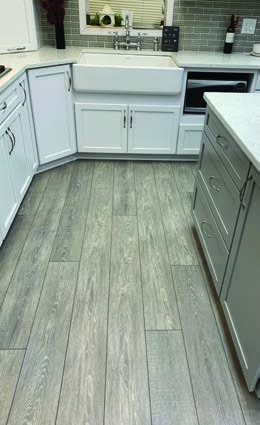 Published (and copyrighted) in House & Home, Volume 20, Issue 2 (Fall 2019). 
For more info on House & Home magazine, click here. 
To subscribe to House & Home magazine, click here. 
To advertise in House & Home magazine, call 610-272-3120.