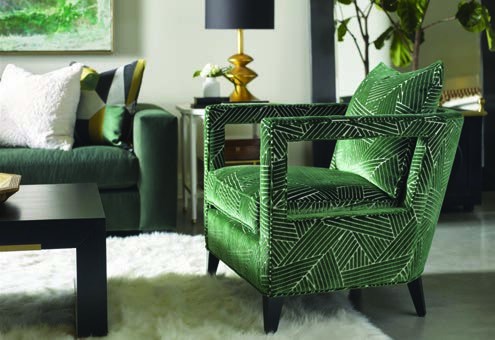 Although autumn is a wonderful opportunity to get outside and enjoy the cooler temperatures or the beautiful fall foliage, it is also a time of year when many homeowners are turning their attention toward their interiors. With more guests stopping over—whether it's friends for weekend football or relatives for the upcoming holidays—it only makes sense to give your home that much-needed update it has been clamoring for.
"This is our busy season because of two factors," says Laura Hawley, owner of AD Window Treatments. "People have gotten their children off to school, so they've come back into their house and they want to do some updates. And secondly, they also want to get things spruced up for the holidays."
 "In the last few weeks, it's been one person after another coming into our showroom, trying to get ready for holiday parties and family gatherings," adds Natalie Weeks Rossitto, owner of M.C. Weeks, Inc. Window Fashions. "In addition to draperies and valances and the Hunter Douglas products, they're looking for custom furniture, upholstery, pillows, bedding—anything you can think of in fabric. They're hoping to add all of those things in time for the holidays."
From subtle gestures that won't break the bank to full-scale renovations, fall is a good time to make changes to your home's interior. House & Home spoke to local professionals in a range of specialties to find out some helpful tips and the trends to look for in the autumn months.
Keep it simple
When most people hear the word "makeover," the first image that comes to mind is a major project that involves knocking walls down or buying new furniture. But drastic changes are not always necessary to have a big impact.
 "As far as updating a space, I always tell people—especially with the holidays approaching—that a good way to change the room is to add some accessories," says Ruth Taylor, an interior designer at Hendrixson's Furniture. "Fresh flowers and candles are always in style. You can add some color with pillows and throws, and that can actually cozy up the room with winter coming.
 "Some people will just reupholster chairs that have an outdated fabric with a more modern fabric; that's a good way to update too. Some people will change out the lamps and lighting in the room because what they have is very traditional; so they'll do something more modern with lighting."
Although Amiano & Son Design-Build is known for kitchen and bath remodels as well as additions, design-build specialist Lucy Ward likes to offer advice on a smaller scale as well.
"As interior designers, we do that all the time in terms of helping people with subtle things or inexpensive things they can do," she says. "In the fall, it might be that you change up your accessories. You have things that look very summery all summer, like blues and greens and those sorts of things that have a much cooler palette to them. When fall rolls in, you want to go with fall colors like you see outside—the oranges, reds and golds. You can add very inexpensive things like pillows, candles and other types of accessories that have a fall theme. … Area rugs can also add warmth to a room."
A fresh coat of paint is another easy way to add or change color in a room.
 "Painting is definitely something people are looking to do at this time of year, and it's one of the most economical ways to make a huge change in a house," says Connie Farley of Bella Home Interiors. "It can freshen things up and make the whole design of your home change, depending on the color that you choose or go from. It can change it from traditional to transitional, or it can create more of a contemporary feel."
Shawn McLernon of Audubon Painting has seen requests for interior jobs take off this season.
 "It's always good to refresh and change up the look, especially when you're looking at the same thing every day," he says. "It adds character to the home, and that's why we like to mix and match different color schemes, just to brighten up the homes we're working in."
While Farley calls anything in the greige family—a combination of gray and beige—the hot color of the moment, McLernon adds that repose gray is very popular.
 "We use that all the time and it's a nice neutral color," he says. "Recently, we've also been doing a lot of cooler colors. That's definitely been a trend for us. But what I've noticed is that some people will think a color looks awful, and the next house will have the same thing and think it looks great. It's really all personal preference, so we try to find out the preferences of our clients and figure out a design that works for their home."
Another option aside from paint is to change or add wallpaper to a room. Not to be confused with the old-fashioned offerings of years past, today's wallpaper contains stunning patterns and designs.
 "We sell a lot of wallpaper and we find that a lot of people are into buying that at this time of the year," says Jere Bradwell of J Bradwells Home Kitchen & Design. "If you take an average room, like a dining room or a powder room, and you add great wallpaper to it, all of a sudden it goes from average to having a wow factor."
Whether you prefer paint or wallpaper, Bradwell suggests the finishing touch of artwork can make a huge difference. He also stresses that homeowners should not overlook lighting.
 "It's like putting jewelry with a lady's beautiful dress," he says. "Lamps add ambient lighting, which makes the room so much more romantic and enjoyable, instead of having all the light coming from above."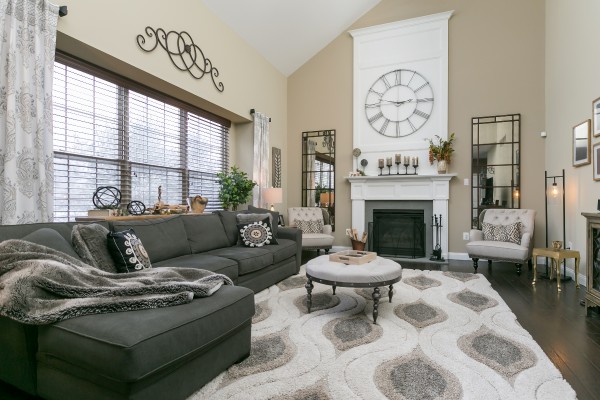 Updating window treatments
Window treatments are often an underrated component of home décor. Many homeowners will often choose simple privacy blinds for their windows or leave them bare, but they are missing out on an easy way to add style.
 "I look at window treatments as art on your walls," Farley says. "Just like adding a beautiful piece of artwork, you can put a beautiful window treatment, which has the same kind of impact but also allows you to address your lighting issues, sun glare or your heat issues by blocking the cold air with draperies or shades. So you're taking care of that element as well as making the window look really nice."
Weeks Rossitto asserts that window treatments are so much more than just a privacy feature.
 "They certainly add an element of ambiance to a room, and they can add color, softness, custom valances or drapery panels," she says. "Even if somebody already has blinds on the windows for privacy or security, we can add custom drapery panels on the side for color and softness, and you can coordinate that with other things in the room, like a matching throw pillow in the same fabric. Something simple like that to throw on your couch right before a holiday event makes it look like you hired an interior designer to come in and pull the whole room together."
For those who have not purchased window treatments in many years, Weeks Rossitto recommends visiting a showroom to get familiar with the modern styles, especially in terms of motorization, which continues to grow in popularity. Most window treatments can now be operated with a remote control or through a smart device.
 "There's nothing more impressive than having your family over for the holidays and having everyone gather around the Christmas tree in your living room, and flipping a switch and having your beautiful window treatments move up and down," she says.
Hawley also encourages more people to embrace the technological possibilities with window treatments.
 "Even though we have had electric windows in our cars for a long time, it's taken a while for people to warm up to a motorized or mechanized window treatment," she says. "They think it's some kind of luxury or unnecessary. But we have clients who are aging in place who wouldn't be able to lift their window treatments without a remote control. Or some people have really big windows that nobody can reach. Plus, the cost of motorization has come down considerably, so it doesn't raise the budget too much."
Thinking bigger
Sometimes updating the space requires more than just a different paint color or new window treatments. If the budget allows and homeowners plan far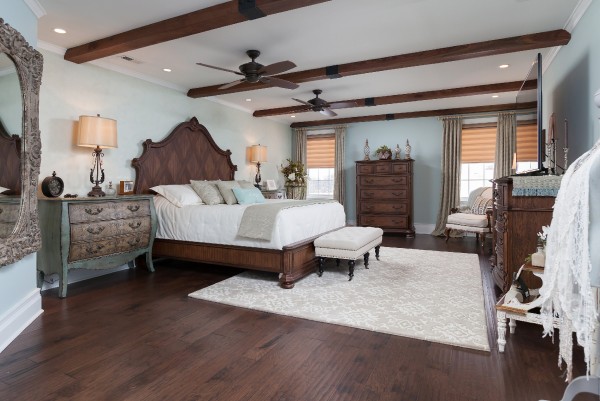 enough ahead, a major project like a kitchen renovation might be possible in the fall before the holidays roll in.
 "We have about seven kitchens right now that people are hoping to get done before the holidays," Bradwell says. "That is motivation at the end of summer if they're looking to have a beautiful kitchen before Thanksgiving. They'll get changes they always wanted, like a double oven or one of the amazing appliances available today.
 "We're still seeing kitchens that are relatively light or white; that's a very popular thing. The other popular color in kitchens is blue. I've seen people do blue cabinets, a blue island or even blue appliances."
Many of Ward's clients are looking to transform rooms that don't get much use.
 "People don't entertain the way they used to with a formal dining room," she says. "They like to mill about in the same space now versus having assigned rooms. So they want to knock down a wall and incorporate what used to be a formal dining room into an open concept with the kitchen. You might add an eat-in bar or some other things to add interest to the space. We do a lot of that type of conversion."
When looking to remake a central gathering spot, homeowners can benefit from the experience and expertise of a professional designer.
 "A lot of times people can only see the space in the way they are currently using it," Taylor says. "A lot of people have a hard time [updating the look on their own], especially with their great room or family room, because there's the TV to worry about, usually a fireplace or focal point and the room is often open to the kitchen.
 "Typically, the way I like to work is I will go out to the home, take a look at their space and then measure and photograph the space to get an idea of how they envision using it. At that point, we discuss what they're going to keep and what they would like to replace. I'll create a floor plan and make suggestions on what pieces they can add to update the room and fit their needs."
Farley offers an inexpensive option in which she completely redesigns a given room using only what the resident already owns.
 "We empty the room and make furniture rearrangements, bring in pieces from other rooms, bring in lamps from other rooms and rearrange the artwork," she says. "It gives a whole new vibe and feel to that room, just by rearranging it or bringing new things in. When you're living there, sometimes you can't see how to rearrange it or change it with what you already have, because you're so used to being there and you're not thinking outside the box."
If the client is looking for something new in terms of furniture, she can help them find something unique that won't necessarily be available at the national chain, like a wine table or one-of-a-kind book shelf.
In the end, whatever path a homeowner decides to go down, it is crucial to plan ahead.
 "One of the things people need to do when they want to update for the holidays is to get with their consultant and make sure the timeline works out," Hawley says. "We don't live in the world of HGTV—sometimes we can accommodate a quick turnaround when it comes to certain products, but normally they need to plan in advance."
RESOURCES
AD Window Treatments
Blue Bell, Pa.
(267) 898-0200
ADWindowTreatments.com
Amiano & Son Design-Build
Southampton, N.J.
(609) 268-5923
AmianoAndSon.com
Audubon Painting
Haddon Heights, N.J.
(856) 617-0482
Facebook.com/audubonpaintingllc
Bella Home Interiors
Pitman, N.J.
(856) 468-4400
BellaHomeInteriors.com
Hendrixson's Furniture
Furlong, Pa.
(215) 794-7325
HendrixsonsFurniture.com
J Bradwells Home Kitchen & Design
Holicong, Pa.
(215) 794-4443
JBradwells.com
M.C. Weeks, Inc. Window Fashions
Trappe-Collegeville, Pa.
(610) 489-7231
MCWeeksInc.com
Select images courtesy of Hendrixson's Furniture and of Bella Home Interiors.
Published (and copyrighted) in House & Home, Volume 20, Issue 5 (November/December 2019). 
For more info on House & Home magazine, click here. 
To subscribe to House & Home magazine, click here. 
To advertise in House & Home magazine, call 610-272-3120.