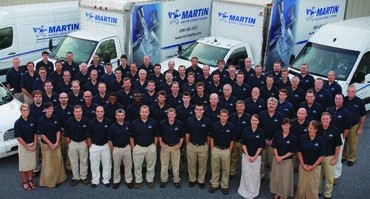 Many of us take for granted the water flowing through our homes. But if you're curious about the quality of water you're using to wash clothes, shower and drink, then a simple water test from Martin Water Conditioning can tell you.
Started in 1973, Martin Water Conditioning is a family-run business founded in Lebanon County that has since branched out to service Philadelphia to Pittsburgh, and New York to Maryland with approximately 100 employees. The company offers certified water testing, installation of water treatment systems and service on all brands.
Jeff Martin, a manager at the company's corporate headquarters in Myerstown, Pa., says, "The most common issues people want to take care of are hard water, taste, odors, staining and removing any trace bacteria or chemicals."
Martin highlights the following symptoms of these issues, many of which homeowners may not recognize:
• Hard water: contains dissolved calcium and magnesium. Hard water can result in dry skin and hair, spots on glasses and silverware, rings in the tub, dull clothing after washing and inefficiency of water-based appliances, such as a hot water heater.
• Iron and manganese staining: causes rustyorange or black staining visible in sinks, tubs, toilets and clothes.
• Low pH: blue-green stains most noticeable on  white surfaces commonly found in tubs, sinks, toilets and clothing; can also erode copper plumbing and fixtures, eventually causing leaks.
• Taste and smell: water may have an odor or funny taste to it; due to a number of factors including chlorine—which is used as a disinfectant. 
Martin Water Conditioning can perform a test to best determine what solution is needed in your home. "There is not a one-size-fits-all solution,"  says Martin. "It's like going to the doctor. We give the diagnosis and recommend the medication."
The company carries a number of different systems, but Martin highlights the Kinetico system as a particularly unique option. "None of the Kinetico systems require electricity to run," he says. "All of the units function off of water pressure using kinetic energy. Kinetico offers both salt-free systems and salt-based systems. They are also twice as effective as anything else on the market … using very little water and a fraction of the salt needed for water softening compared to electric systems."  
Once a system is installed, the changes in water quality will be noticeable. "From a drinking water standpoint, we can give them bottledwater quality from the faucet, safe from chemicals or  bacteria that could trickle into the supply. Resolving hard water means things will get cleaner, like clothes and dishes, and you'll use a fraction of detergents, soap and shampoo; appliances  will run more efficiently [and] you won't see build-up or crusting on heating elements," says Martin.
To schedule your free water analysis and estimate, call (800) 887-7555.
For more information about Martin Water Conditioning and their solutions, speak to a water specialist at (800) 887-7555 or visit MartinWater.com.
Published (and copyrighted) in House & Home, Volume 19, Issue 5 (November/December 2018). 
For more info on House & Home magazine, click here. 
To subscribe to House & Home magazine, click here. 
To advertise in House & Home magazine, call 610-272-3120.