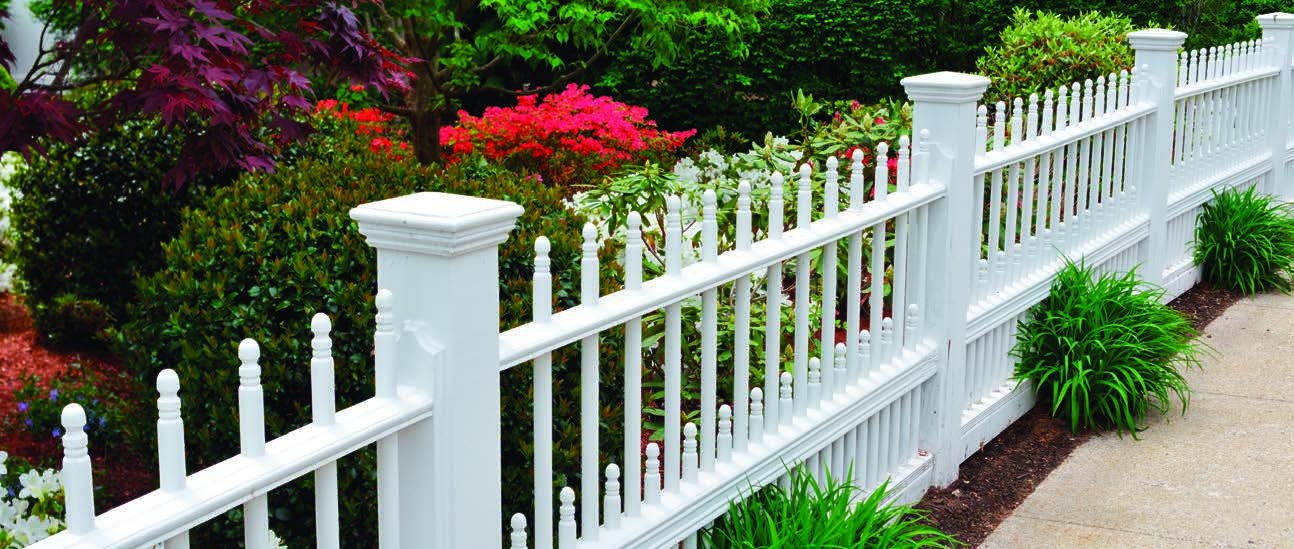 By Liz Hunter
As another spring season is upon us, homeowners may be realizing that their aging fence has passed its prime: The color has faded to a dingy gray, some of the posts are leaning (or broken), and the gate doesn't close without a full-body shove. Don't put up with it for another year. The fencing industry has evolved, offering plenty of options to fit any purpose, preference and budget.
VINYL IS KING
If you currently have an older wood fence, then your home was probably on trend … a few decades ago, according to Chris Pisani, manager at American Discount Fence. "Thirty years ago, wood fence was the choice," he says. "The vinyl product was just coming into the market and was much m ore expensive. The thought was that the vinyl fence, for what it cost, would not hold up like the wood fence, so it wasn't a smart choice for the consumer."
But, like most things in the past few decades, the vinyl product went through its share of upgrades. "Today, with the improvements in durability, UV protections and impact resistance, the wide variety of styles and colors available, strong manufacturer warranties and price point, vinyl has become the No. 1 choice," Pisani says.
Vinyl fences have a lot to offer homeowners in one neat package. "Vinyl has become more popular because of its durability—it lasts three times as long as a wooden fence—and also its look," says Mike Martella, owner of Progressive  Fence and Railing. "Aside from the common white, it comes in beige/khaki,  gray and even a wood tone. It can vary in height, it can have scalloped pickets or dog-eared pickets. There's a lot of appeal to its presentation."
Not all vinyl fences are created equal, however, say Martella. "There are vinyl fences that don't stand the test of time. You can spot mildew or green spots on them when you drive around, which means they are porous and don't clean as well," he says. "If it shifts in the ground there will be gaps between the slats. Higher quality fences won't have that."
Homeowners should find out how the vinyl used by their fencing company is made. "Our virgin vinyl products are made of the finest chemical compounds, resins and polymers that give our products strength, stability and durability unlike any other product on the market," says Tom Daddazio, regional market partner for FenceUSA. "Some other companies will have less expensive products, but they are made of less desirable materials such as inferior resins and recycled by-products. Another big advantage we have is that our vinyl is made utilizing a dual extrusion process."
Pisani says this is now the most common practice used by manufacturers, and the result is a better product.  Beyond that, consider details like wall thickness of the posts, rails and pickets. "With the rails, many manufacturers are using 'ribs' to strengthen them as they span up to eight feet. With colors, an aluminum rail is usually inserted into the top and bottom rails," he says. "The ribs and aluminum inserts provide an added horizontal strength to help minimize sagging. Vertical  pickets have been improved as well. Today companies are manufacturing  tongue and groove pickets that interlock to help increase wind strength."
Daddazio says vinyl can be dressed up, too. "People like the privacy aspect, but now they are asking for decorative elements such as spindle or lattice tops, semi-private spacing or decorative railing," he  says. "These add really nice touches of beauty to the property."  Martella says solar light caps are another attractive option that create a special ambiance at night.
ALTERNATIVES WORTH CONSIDERING
Despite vinyl's appeal, some don't prefer the contemporary look. Some are loyal to wood and willing to maintain it, while others go for aluminum or even bronze and iron.  
Aluminum is a common choice around pools to keep the area gated for security, but allow easy visibility, or it can be used in the front of the house for curb appeal without obstructing the view of the home. 
 "Aluminum fencing was designed to provide customers with a more cost-effective option to wrought iron," says Pisani. "The only limitation of an aluminum fence is that it does not provide as many privacy options that a vinyl, wood and chain-link fence does."
For a fence that is meticulously handcrafted, the designs from Artesano Iron Works stand out. Made of iron, bronze and metal, these fence designs honor a tradition. "Character, longevity and artistry are the three reasons why homeowners consider our product  over other less costly options," says Andres Vivanco, project manager. "The difference between our fencing projects is that they are 100 percent customizable. Most companies say they can custom make a fence but they use prefabricated components  to arrange them in a customizable way. Our projects are made  specifically to order, from the iron bars that are forged, to the finials, textures and finishes. It is entirely made by hand."
Vivanco says the fences made for exteriors are dipped in pools of zinc to prevent rusting and oxidation. "As the iron ages, the paint coating might start to fade after five to seven years, but the product itself will be as solid as the first day we installed it," he says.
In terms of style trends, bronze is still a popular choice. "Bronze railings and balconies are a very high-end product," he says. "The age of Art Deco is making a comeback in contemporary  designs and what better materials to replicate these ageless designs than with bronze."
FINAL RECOMMENDATIONS
Before signing on the dotted line with a fencing company, be  sure to do your research. "It's always best if you know someone who used that company," says Daddazio. "Word of mouth is so helpful because reviews  only tell a one-sided view of the whole story. Pay close attention to how you are treated at the beginning of the process. Were you left waiting for a call back? Did you wait awhile for the estimate? Did someone promise an estimate by a deadline and missed that deadline?  Those aren't good signs. Typically, how a company relates to those promises is  how they relate to all of their promises."
Also check for proper licensing and insurance, recommends  Pisani. "Certainly they should ask the contractor if they have insurance. If they are having contractors work on their property it is  the most important thing. If there is an accident, the homeowner is protected. Contractors should also have the required state and local registrations," he says. "These registrations  were created to further protect the homeowner. Ask for product information, such as brochures so they can research the product. Ask if they provide labor warranties and what warranties are available for the material. Get it in writing  so there are no issues when something may not seem right after installation."   
RESOURCES
American Discount Fence
Runnemede, N.J.
(856) 939-3022
AmericanDiscountFence.com
Artesano Iron Works
Serving Pa. and N.J.
(215) 483-9273
ArtesanoIronWorks.com
FenceUSA
Serving all of Pa., Del., and N.J.
(484) 324-4365
FenceUSA.com
Progressive Fence and Railing
Serving N.J. and Pa.
(609) 449-8079
ProgressiveFenceAndRail.com
Published (and copyrighted) in House & Home, Volume 18, Issue 10 (April 2018). 
For more info on House & Home magazine, click here. 
To subscribe to House & Home magazine, click here. 
To advertise in House & Home magazine, call 610-272-3120.