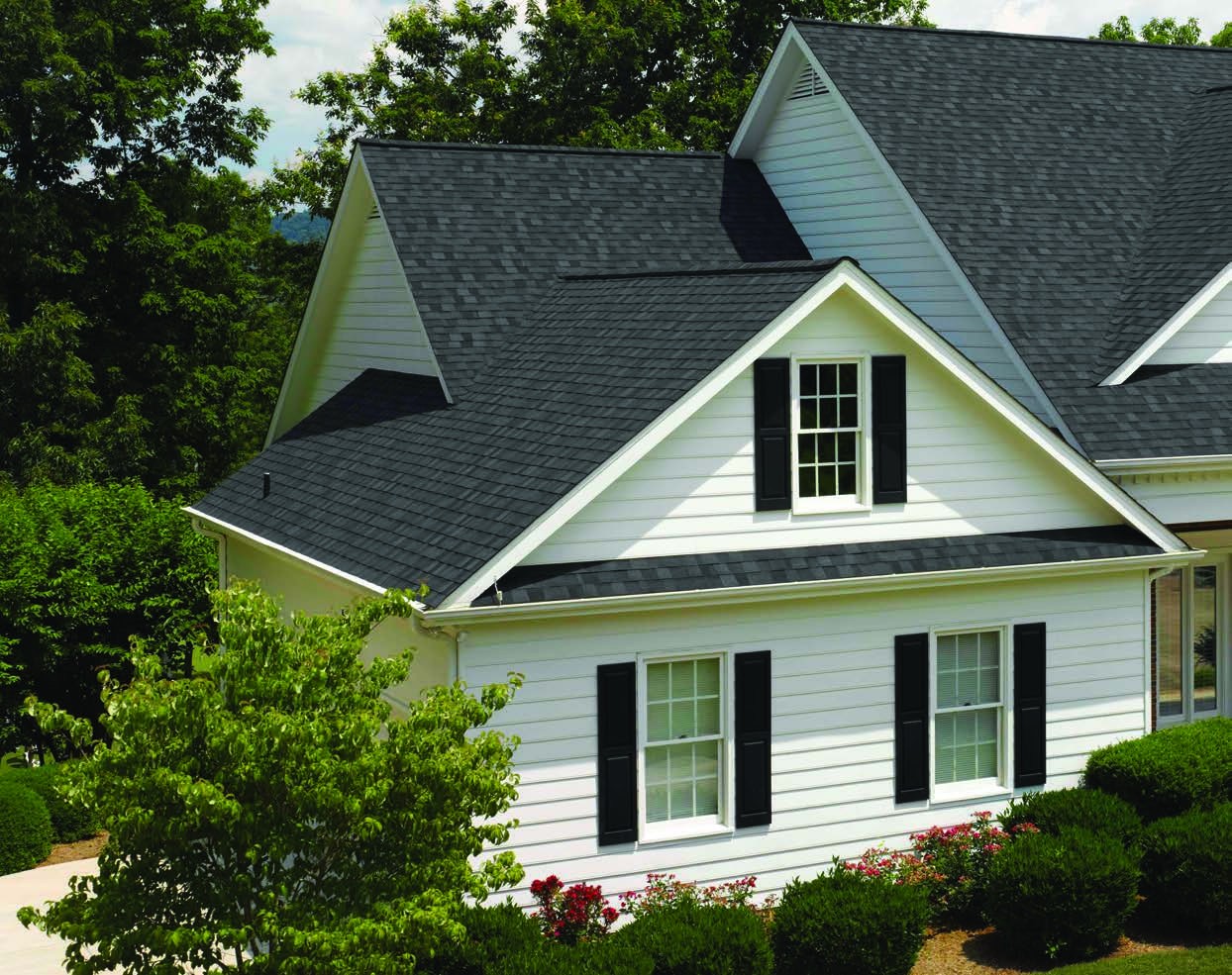 Many families are choosing to stay in their homes longer and in turn are looking for ways to give it a fresh look. A facelift on certain areas of the exterior, such as roofing, siding, driveway and walkways, are small changes with a big impact now and down the road. According to the 2018 Cost vs. Value Report, regional data show homeowners can recoup nearly 68 percent of costs for siding replacement and 94 percent for a stone veneer. We chatted with some professionals offering these services about which new materials  are worth the investment and why they'll have you loving your home again.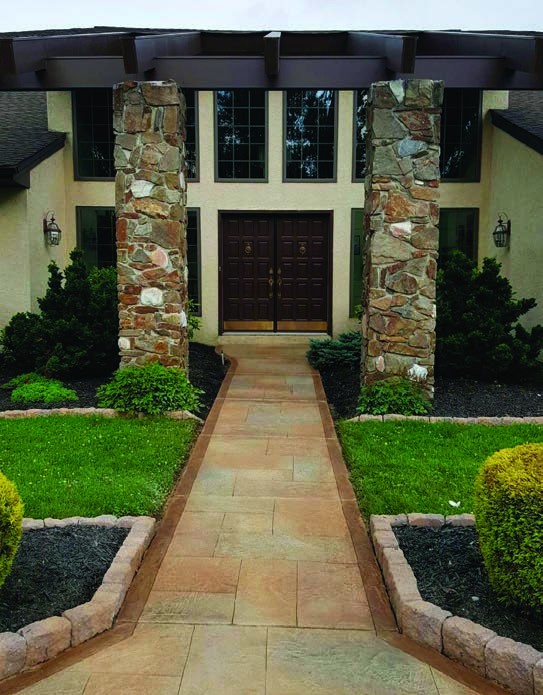 ROOFING & SIDING
Undoubtedly these two elements of a home are the crux of curb appeal. When friends and family arrive for a visit, the tone is set by roofing and siding, and if they are in disrepair, it doesn't give the best impression.  
Roofing will often show signs of age in the way of curled or buckled shingles, water damage or black streaks of algae. Dave Lyons, owner and president of DNA Roofing & Siding, says professionals can spot damage in a roof just by walking around the house. "You can see where water discharges,  nails popping through shingles, and algae growing on the roof," he says. "All of these can make the home look not so good."  
Full replacement may not always be necessary, says Lyons. Sometimes it might just need to be cleaned or have a few shingles replaced. When he surveys a roof he will offer homeowners estimates  on repairs and replacements, and for those who choose repairs, proper maintenance can add years to a roof's life.
If a homeowner does choose to install a new roof, he says there are plenty of products on the market to choose from. Lyons recommends Landmark shingles from CertainTeed. "These are thicker, heavier grade shingles and they give the roof a  designer look," he says, referencing the dimensional look that emulates a wood shake. 
Mike Bradford, co-owner of Top Notch Roofing/Siding, says the new shingle products aren't like roofs from decades ago. "Old roof shingles just lay flat, but the new shingles have so much dimension  and they just pop. It's surprising how much a new roof can change curb appeal," he says. 
He says Timberline shingles from GAF are growing in popularity, saying homeowners are requesting them. "They have an upscale look and can withstand the  elements—a lot of Shore homes are using them—and the manufacturer stands behind the product," says Bradford.  
For a look that breaks from the traditional, metal roofing can offer curb appeal and longevity, says Adam Parnes of Global Home Improvement. "Standing seam metal roofing comes in over 35 different colors and is ideal for historic, contemporary and even traditional homes," he says. "In addition, it is designed to last four to five times as long as asphalt—up to 100 years."
Parnes says it's a good choice for Shore homes too, for its weather protection—it can withstand hurricane force winds— and  it also reflects heat from the sun, saving on energy bills.  
Fiber cement siding by James Hardie is an alternative to wood and vinyl. "It is durable, weather resistant and most importantly looks amazing," adds Parnes.
This product mimics the look of other materials, such as wood and shingles, yet it's longer lasting, and can be painted in any color.
 "It's hard to find darker colors in vinyl siding because vinyl fades," says Lyons. "Thanks to manufacturing advancements, companies like Hardie are coming out with some darker colors because it's painted onto the product and holds up better."
And it's no surprise that gray is the color people are gravitating toward. "The color trend we are seeing is gray siding with white trim. It really gives homes a modern, clean look and feel without breaking from tradition," Parnes says.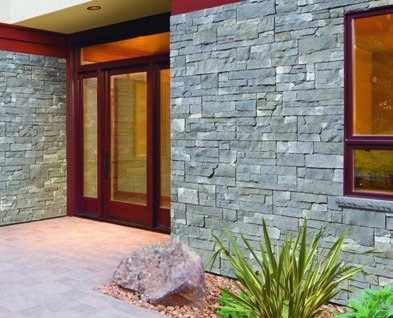 A stone veneer can be a dramatic  touch to a home's exterior, but it often requires the skill of  a mason to install. Thankfully,  manufacturers have responded to those who want the look without the extra costs by releasing products that can be installed by anyone who does siding. Lyons says CertainTeed has a newer product called StoneFacade  that can simply be screwed into place. Panels are made from hand-selected stones and have a 20-year limited warranty. "This is going to be something  that takes off pretty quickly," Lyons says.
CONCRETE SURFACES
The driveway and sidewalks leading to your home also contribute to curb appeal. A property with  broken or fractured concrete is viewed as needing repair. Concrete resurfacing offered by New Castle Artisan is more of a home improvement than a repair, says owner Gwen Kunkel. "The benefit of resurfacing is instead of just fixing a problem like cracking, pitting  or damage from mold, you can make a home improvement.  With resurfacing we add design and carve the cracks into the existing pattern after we repair them. That makes it more valuable financially and aesthetically," she says.
In order to determine if the concrete can be resurfaced, Kunkel will look for good structure  and spalling—cracks or peeling. Kunkel uses a polymer resurfacing system that has blends of plastic mixed with concrete. "Our polymer cements are the best alternative for exterior projects because they resist erosion," she says. "Applied properly, they do not peel, flake or de-laminate. They  are absorbed into the existing concrete, grow spines that expand, creating a new cement surface that is incredibly durable as well as stain and chemical resistant."
There is also no need to worry about damage to landscaping. "There is no mess and no harm to landscaping," Kunkel says. "Our equipment doesn't go on the grass. We use handheld tools and when we leave you can't even tell we were there."
In general, Kunkel says resurfacing  driveways costs about 30 percent less than replacement. "With minor care and maintenance, resurfacing is going to hold up for as long as the structure underneath. We have some that still look good after 25 years, including my own driveway," she says.
SMALL TOUCHES
While focusing on these big pieces, homeowners may not think of a few other ways to improve the look of a home.  
 "Gutters are a functional part of any home but can often be overlooked for style," says Parnes. "Homeowners can consider a half round gutter or a contemporary RainPro gutter for a fresher look compared to the traditional K-style gutters."
If you're already tackling a siding or roofing project, it's worth looking at the gutters simultaneously, he says. "When replacing  your siding or roofing it is always a good idea to look at replacing your gutters since in most cases they have to be removed and reinstalled  anyway. For added curb appeal, you can go with a bronze and black gutter to complement your home's siding or roofing choice."
For a final finishing touch, exterior trim work will set your home apart, says Bradford. Using a composite material, Top Notch can accent the fascia, gables, windows, columns, porch beams and more. "Trim work is a home run when you put it on there," he says. "It makes your home one of a kind. You'll never look at it the same way again."
RESOURCES
DNA Roofing & Siding
Newark, Del.
(302) 455-2180
DNARoofingSiding.com
Global Home Improvement
Serving Pa., N.J., and Del.
(866) 735-1121
GlobalHomeInc.com
New Castle Artisan
Turnersville, N.J.
(856) 725-3333
NewCastleArtisan.com 
Top Notch Roofing/Siding
Serving N.J. and Pa.
(609) 822-4839
TopNotch-Roofing.com
Images courtesy of sources including CertainTeed and New Castle Artisan
Published (and copyrighted) in House & Home, Volume 19, Issue 2 (August 2018). 
For more info on House & Home magazine, click here. 
To subscribe to House & Home magazine, click here. 
To advertise in House & Home magazine, call 610-272-3120.